WETA Developing A Live-Action / Animatronic Wind In The Willows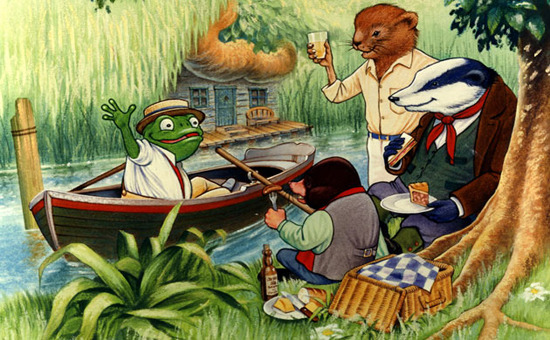 Kenneth Grahame's The Wind in the Willows, which follows four anthropomorphized characters in a classic pastoral English countryside, has been adapted to the screen many times. Now there's a new version on the way, to be directed by Ray Griggs, with Peter Jackson's WETA providing a suite of animatronic effects to bring the animal characters to life.Variety says the $30m production, which shoots this fall, will be "a live-action and animatronics version" with WETA's Richard Taylor overseeing the effects. Taylor should be familiar to many as the man behind a lot of the effects in The Lord of the Rings, as well as many other films. Bill Marsili (Lightspeed) wrote the script.
The key word here for me is 'animatronics,' as that's a form that we just don't see used often enough. There's a lot of animatronic work that underpins CGI, but if we're going to see full-on animatronic representations of Mole, Ratty and the other characters from Grahame's story I'll be quite happy. I'm already envisioning a film that updates some of the classic animatronic films of the '70s, which is probably inaccurate, but I can dream. If nothing else, animatronics, especially done by Richard Taylor and WETA, should be perfect for this story.
Marsili's script sounds like it is keeping some elements of the original story while changing the emphasis on others to provide a more streamlined conflict. That is, it has the animals joining forces " to save their land from a sinister plot that threatens to destroy the uneasy truce between the peaceful animals of the Willows and what remains of Mankind. Story begins when Mole ventures out of his lonely home for the first time and finds a world of new friendships, wonders and adventure waiting for him in the land of the Willows."