Legendary Pictures Lands Live-Action Technotise Adaptation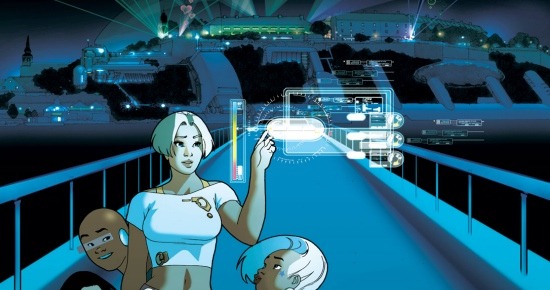 Last year we posted an awesome fan-made movie trailer for a big screen Green Lantern film, edited together by Jaron Pitts using clips from a bunch of different movies, using composited computer generated imagery. If you haven't seen it before, click the link and watch it now. Scott Glassgold, co-chief of IAM Entertainment, saw the Green Lantern trailer shortly after acquiring remake rights to Technotise – Edit i ja, a Serbian anime movie based on a graphic novel of the same name. He commissioned Jaron to edit together a trailer to "raise awareness for the property and bring to life our vision for a live-action remake."
The trailer was released online in January and apparently caught the eye of Avatar executive producer Laeta Kalogridis, who has been shopping the adaptation around Hollywood. Tonight it was revealed that Legendary Pictures ended up winning the bid to develop the big screen adaptation.
Heat Vision is reporting that Legendary not only picked up the pitch/rights, but have hired Shutter Island scribe (and Avatar producer) Kalogridis to pen the screenplay as part of a deal which is said to be in the low seven figures. Rae Sanchini, who worked with James Cameron on Titanic, will produce alongside Thomas Tull and Jon Jashni of Legendary Pictures.
Coinicedently, the faux trailer had the Warnber Bros logo at the header. Legendary's offices are not only on the Warner Bros lot, but the company has a 7-year, 40-picture agreement to co-produce and co-finance all their films with Warner Bros., which began in 2005. The WB logo was only used because "it was a good fit."
According to WiReD, Kalogridis has "done an amazing job of marrying the DNA of the original Technotise to something that now operates as an action-packed, tent-pole movie."
For those of you who haven't seen the anime or read the comic, the story takes place in Belgrade 2074, where after a few failed exams a student named Edit decides to implant a stolen military memory chip in order to help her pass the exam. But the chip gives Edit incredible powers and begins to take over her mind and body. Edit must save humanity and escape the "nefarious parties desperate to retrieve the technology inside her." Watch Pitt's concept trailer below:
Meanwhile, editor Jaron Pitts is developing a feature-length sci-fi movie inspired by the lost Bible passages with the hopes of making his directorial debut.