Geoffrey Rush Confirmed To Return To Pirates Of The Caribbean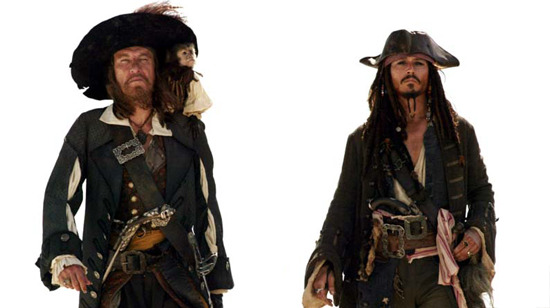 As the development and casting of the fourth Pirates of the Caribbean film has gone forward, we'd basically known that Geoffrey Rush (the series' secret weapon) would return as the formerly villainous pirate Captain Hector Barbossa. Now his return is confirmed.
Variety says that Rush plays "one of the few returning characters" from the previous three films. That is, we know that major actors like Orlando Bloom and Keira Knightley are not back — essentially, it's Johnny Depp and Rush marking the core returning faces.
A rundown of what we know about the film:
Rob Marshall directs from Terry Rossio and Ted Elliott's script. The shoot, in 3D starts later this month in Hawaii.
Rossio and Elliott have written all four Pirates films; this one is based in some small part on the novel On Stranger Tides by Tim Powers. The novel has the fountain of youth as a core plot point; of the novel Rossio said "we wanted to do a story about Blackbeard and the Fountain of Youth, and Tim Powers wrote a book about Blackbeard and the Fountain of Youth... it just turns out that to do that story you would need that book."
Stephen Graham plays "Scram, a Machiavellian pirate," who'll be "a sidekick to Johnny Depp's Captain Jack Sparrow."
Ian McShane is the pirate Edward Teach, aka Blackbeard, and Penelope Cruz is his daughter, a foil for Sparrow.
Sam Claflin and Max Irons are in the film, too, and French actress Astrid Bergès-Frisbey plays a mermaid named Syrena.
Smaller returning characters are Kevin McNally's Joshamee Gibbs, and Greg Ellis' Theodore Groves. Keith Richards has been said to be returning, and there have been rumors that Mick Jagger would show up, too.