Steven Spielberg Casting Eddie Redmayne As The Lead In War Horse?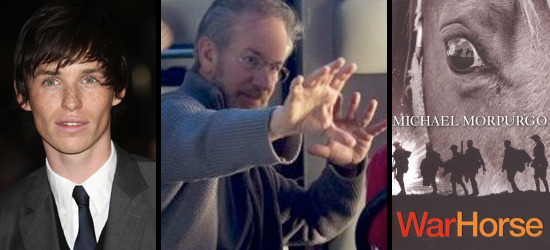 The next film Steven Spielberg will direct is War Horse, an adaptation of Michael Morpurgo's novel about Albert and his horse Joey, which is sold to the army and sent to the Western Front, leading Albert to embark upon a journey to save the animal.
Now Spielberg has reportedly found his leading man: the relatively underexposed British actor Eddie Redmayne.
The Playlist has been tipped that Redmayne is "pretty much locked" for the role. The 28-year old actor has been seen in Savage Grace (where he was great), The Other Boleyn Girl, Elizabeth: The Golden Age and is in the upcoming Black Death and mini-series adaptation of The Pillars of the Earth.
The last time Spielberg relied on a key cast member that was as new-seeming as Redmayne was probably in Saving Private Ryan, but even then he had Tom Hanks to anchor the film. The Playlist invokes Empire of the Sun, which relied on a very young, basically unknown Christian Bale. This isn't quite like that, if only because Redmayne is hardly so young, and has several notable credits to his name. But to the broad audience that you'd expect a Spielberg picture to find, he'll be much less of a known quantity than many other choices the director might have made.
But there's room for at least one big name actor to be cast as the officer who takes the horse Joey into battle, and Spielberg could replicate his casting efforts from Saving Private Ryan and put a lot of known but also young actors in roles as soldiers.
(The only doubt that comes into mind with this story is that, at 28, Redmayne seems too old to play Albert. The Playlist's sources are usually right on the money, and the site isn't quick to run unverified info, but I could still see Redmayne ending up being the officer, rather than Albert.)
In 1914, Joey, a beautiful bay-red foal with a distinctive cross on his nose, is sold to the army and thrust into the midst of the war on the Western Front. With his officer, he charges toward the enemy, witnessing the horror of the battles in France. But even in the desolation of the trenches, Joey's courage touches the soldiers around him and he is able to find warmth and hope. But his heart aches for Albert, the farmer's son he left behind. Will he ever see his true master again?