Les Grossman Movie Officially Happening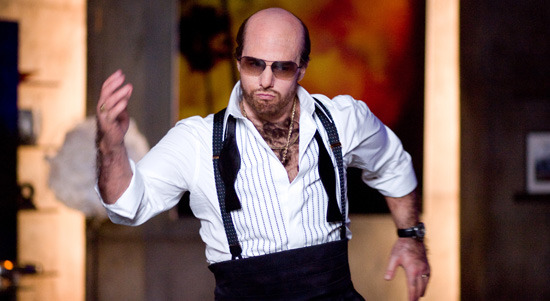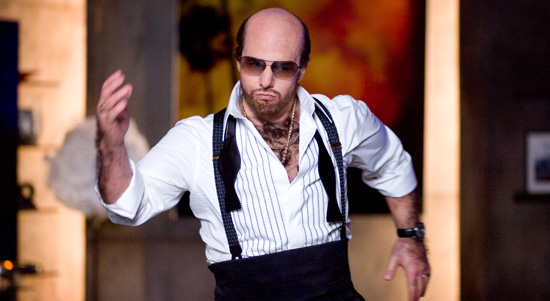 After his appearance(s) in conjunction with the recent MTV Movie Awards, there was speculation that Tom Cruise is developing a film based on his Tropic Thunder character Les Grossman. Cruise confirmed that something was in the works, and now we've got official word from Paramount that a film, the Untitled Les Grossman Project, is in fact in development.
Cruise is producing and will star. Based on the press release, which features quotes from Ben Stiller, it's safe to guess that Stiller will be in the film as well. There's no director set at this point, but Michael Bacall, co-writer of Scott Pilgrim vs. the World, will write the script. Check the full press release after the break.
I always like the idea of actors definitively crossing the line between drama and comedy, and Cruise has the skills to do some funny stuff. I've enjoyed his Grossman appearances, but I'm afraid of SNL syndrome when it comes to a feature. Written well, though, this could be great Hollywood satire. If Stiller directs, Paramount and Cruise may have something here.
HOLLYWOOD, CA (June 9, 2010) – Paramount Pictures and MTV Films announced today that they are set to develop a movie around mega-producer Les Grossman. The announcement comes on the heels of Grossman's groundbreaking and visionary production of the soon-to-be Emmy® award-winning 2010 MTV Movie Awards Sunday night. Tom Cruise, along with Ben Stiller and Stuart Cornfeld of Red Hour Films will produce and have secured the life rights to Grossman.
Grossman, best known as a mega producer, has most recently mentored talents such as Rob Pattinson and Taylor Lautner. In 2008, Grossman was introduced to the masses by Stiller in the comedy "Tropic Thunder" where the famed producer had a cameo playing himself.
Said Ben Stiller: "Les Grossman's life story is an inspiring tale of the classic human struggle to achieve greatness against all odds. He has assured me he plans to quote, 'F**king  kill the sh*t out of this movie and make Citizen f**king Kane look like a piece of crap home movie by the time we are done.' I am honored to be working with him."
When asked what the screenplay was about Grossman responded: "To quote my great friend Kirk Lazarus, 'I don't read the script, the script reads me.'"
Adam Goodman, Paramount Film Group President said, "Everything I learned in this business, I've learned from Les. I started out as his assistant, and from the first day he threw his desk at me when I got his lunch order wrong, I have loved him like a father.  I am forever grateful to Ben and Stuart Cornfeld and their ability to secure his highly-coveted life rights,"
Tom Cruise is said to be in talks to portray Grossman in the film.
Michael Bacall ("Scott Pilgrim vs. the World") will write the script.