Casting Notes: New Faces For Pedro Almodovar's 'The Skin I Live In,' The Spider-Man Musical, And Dexter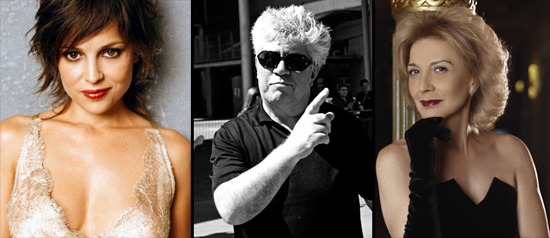 Pedro Almodovar has been casting his next film La piel que habito (The Skin I Live In) and got things off to a big start by including Antonio Banderas, with whom the director has not worked since 1990. Now Almodovar has hired actresses Elena Anaya (Sex and Lucia) and Marisa Paredes. Both actresses have worked with Almodovar before; this will be the sixth film under the director for Paredes.
The film is about "a plastic surgeon's revenge on the man who raped his daughter," leading to the supposition that Banderas plays the surgeon and Anaya his daughter. Refer back to our last piece on the film for a long synopsis of the novel on which the movie is based, as it hints at how weird and uncomfortable this project might be. Can't wait. [Variety]
After the break, Spider-Man: Turn Off the Dark has a new Mary Jane, and Dexter gets a (slightly) unusual, possibly spoilerish cast member.
Julie Taymor's stage musical Spider-Man: Turn Off the Dark still has the dumbest possible name, but it also has a new girl playing Mary Jane. Tony-nominated Jennifer Damiano (of Broadway's Next to Normal) has stepped into the role vacated by Evan Rachel Wood a few months ago. Spider-Man is likely to be the most expensive musical in history, budgeted at $50m-plus after delays and re-hirings. Music and lyrics are by Bono and The Edge; Taymor and Glen Berger wrote the book. [NYT]
Finally, we told you the other day that Julia Stiles was confirmed for Dexter's fifth season, but there's another cast member to report. This one could be a spoiler of sorts, so skip this if you're behind on the show.
The report is that Julie Benz will return. The end of Dexter's fourth season seemed to, let's say, leave that in doubt. More than likely she'll be joining James Remar in flashback-land. That place is going to get crowded before the show's full run is over. [THR]