Cool Stuff: Martin Ansin's "Space Seed" Star Trek Poster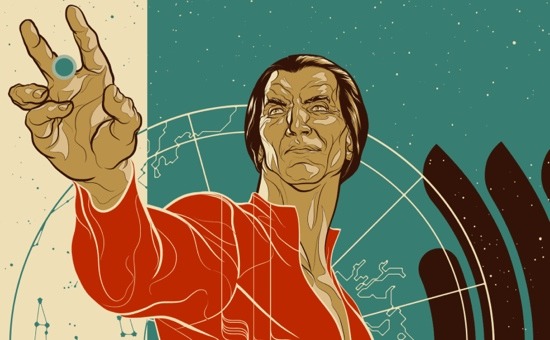 The Alamo Drafthouse and Mondo Tees have announced a series of Star Trek-inspired posters. The first one will be released on the Mondotees website today (Wednesday) sometime around mid-day (so keep checking back). Martin Ansin's "Space Seed" poster profiles one of the most infamous characters in Star Trek history — KHAN!!!
Instead of doing WRATH OF KHAN right off, we decided to do a poster for his first appearance, SPACE SEED. WRATH OF KHAN will show up eventually, but we had to plant some roots. This will be an ongoing series in partnership with CBS. The most exciting thing about this partnership is that they have given us the keys to the kingdom. We can do LITERALLY ANY Trek property. That means the original series, the movies, TNG, the J. J. Abrams version and even the cartoon if we wanted to. Our goal is to do one a month and leave everyone guessing at what's coming next. Next months entry will drive people NUTS and if everything goes right, we'll be selling a variant at San Diego Comic Con.
The Space Seed poster will be available in a regular edition of 300 and a variant edition on wood of only 35. Check out the full print, after the jump.