New Mortal Kombat Footage Features Michael Jai White; Does This Tease A New Movie, Video Game, Or Both?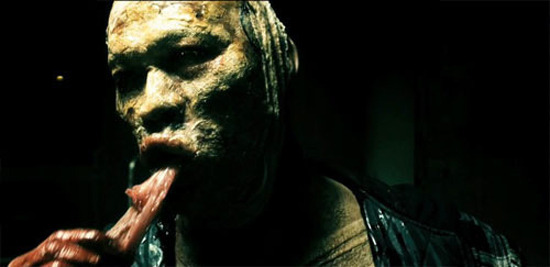 The most attention-getting thing to hit the 'net on a very slow news day is this seven minutes of Mortal Kombat footage featuring Michael Jai White as Jax. There's a lot going on here — introductions and backstory for antagonists like Reptile and Baraka, a fight scene featuring Johnny Cage, and even Jeri Ryan as Sonya Blade.
But what's it for?
There's some real production value here; it would be easy to mistake this for a great fan creation, but between the notable names (not a-list, but big enough) and the obvious money spent, this is definitely something official meant to prime fans for some new project.
Nice introduction of Scorpion, too.
The video game expo E3 takes place next week, so we'll almost certainly know more then. The scope of this footage is actually pretty constrained (despite the long fight scene) which suggests it is purely footage to promote a new game, rather than a film.
But in the wake of Midway going down the tubes WB owns Mortal Kombat, so it isn't too much of a stretch to guess there might be some plan for both a film and game announcement. WB had been looking to reboot the MK films not long ago, but there was some legal entanglement. If that has been resolved, then this could easily be a joint film/game promotion. This could essentially be proof of concept footage akin to the Tron footage shown a couple years back. But it's pretty elaborate for that.
Update: Full Details on Kevin Tancharoen's Mortal Kombat: Rebirth
Check the footage below, and note that it's gooey enough to qualify as NSFW in some quarters. You make that call.