X-Men Updates: First Class Courting Michael Fassbender For Magneto, And Filming Locations In Michigan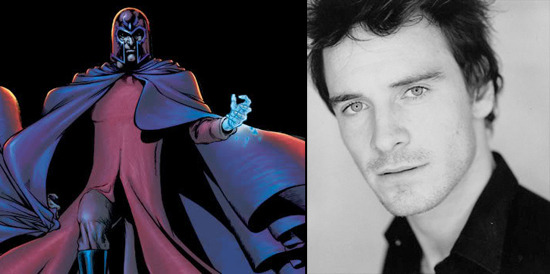 X-Men: First Class is slowly casting up. James McAvoy is on board as the young Charles Xavier, and there's the word that director Matthew Vaughn's Kick-Ass star Aaron Johnson is going to play a role. Spider-Man shortlist actor Frank Dillane may also be up for a role.
Now there's a report that Vaughn and Fox have a Magneto in mind: Michael Fassbender of Inglourious Basterds and Hunger. (And of quite a few upcoming films, too.) In addition, we've got some news on locations that are being sought in Michigan, which may give you some idea of what to expect from the film.
Showbiz 411 says that Vaughn wants Fassbender for Magneto, and it's a great idea. He'd be top-class casting for the part, and could be made up to look enough like Ian McKellen that he'd not be too jarring a transition as we look at the younger version of the character.
There's a problem, however: the site also reports that he's being pursued to play the bad guy in Sony's Spider-Man reboot. The idea is that he can only do one or the other, so which one will it be? I'm pretty much rooting for Magneto, but in part that's because we don't know who he'd play in Spider-Man. What does it suggest about the bad guy there that Fassbender might play him?
Additionally, MTV noticed a West Michigan Film Office alert that reports Fox is scouting locations for first class. Here's the note:
A location scout is seeking out areas with a 1960's, South-American or Central American island feel for the next X-Men movie, 'X-Men: First Class.' In particular, he needs to find cafe and bar locations, evoking the Argentinian feel of Bariloche, and an Art Deco Cafe or restaurant overlooking a body of water. Additionally, the movie calls for a Miami styled harbor for yachts. If you know of any locations that seem to match a description, please contact our office.
So, is Magneto meant to be hiding out in South or Central America after WWII? Classic continuity has he and Xavier meeting in Israel, then having a falling out, which Magneto escapes with Nazi gold to fund his dream of mutant freedom. Does the film feature Magneto building strength in South America?