No More Costumed Superheroes In Hollywood?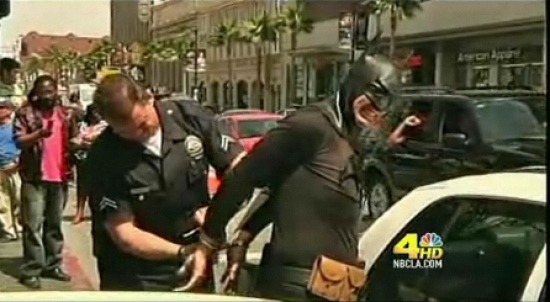 One of my favorite parts of Hollywood Boulevard was the ridiculous costumed superheroes that posed for photos near the Grauman's Chinese Theater. Jimmy Kimmel regularly featured these performers on his show, and a documentary was even made about the characters called Confessions of a Superhero (watch it on Hulu for free).
Well it appears there will soon be no more costumed characters on the Walk of Fame, as Los Angeles police have launched an effort to clear the area of unlicensed Hollywood character impersonators, making a dozen arrests this week. In recent years some tourists and shop-owners have complained that the costumed characters had become more aggressive and pestered some of the tourists for money/tips. Arrests made over the past couple days include Spiderman, Catwoman, Batman, Scooby Doo, a Johnny Depp lookalike Jack Sparrow, Elvis, another Catwoman, and a few others
. After the jump, you can watch a video report from NBC LA which caught The Dark Knight being arrested on camera.