Movie Trailer: Gulliver's Travels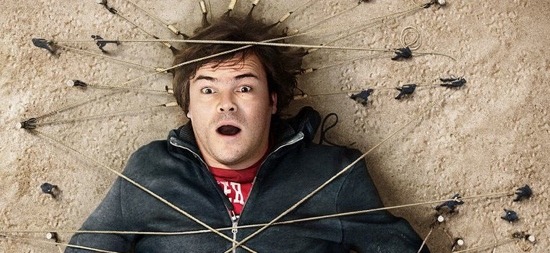 20th Century Fox has released a movie trailer for the Jack Black fantasy comedy Gulliver's Travels. Directed by Rob Letterman (co-director of Monsters vs Aliens) and co-starring Jason Segel, Emily Blunt, Romany Malco, Billy Connolly, T.J. Miller, and Amanda Peet. Based on the book by Jonathan Swift, this adventure comedy tells the story of "travel writer Lemuel Gulliver who takes an assignment in Bermuda, but ends up on the island of Liliput, where he towers over its tiny citizens."
While this movie definitely doesn't look good, it certainly doesn't look as horrible as I thought it was going to be — especially judging from the posters and billboard which made it look like a fake movie in Funny People or Tropic Thunder. But yes, Emily Blunt was forced to turn down a role as Black Widow in Iron Man 2/Avengers to be in this movie. Watch the trailer embedded after the jump. Leave your thoughts in the comments below.
Official plot synopsis:
In a contemporary re–imagining of the classic tale, Jack Black stars as Gulliver, a big–talking mailroom clerk who, after he's mistakenly assigned a travel piece on the Bermuda Triangle, suddenly finds himself a giant among men when he washes ashore on the hidden island of Lilliput, home to a population of very tiny people. At first enslaved by the diminutive and industrious Liliputians, and later declared their hero, Gulliver comes to learn that it's how big you are on the inside that counts.
Watch the trailer in High Definition on Apple. Gulliver's Travel's hits theaters on December 22, 2010.