How Gareth Edwards Shot 'Monsters' On An Incredibly Low Budget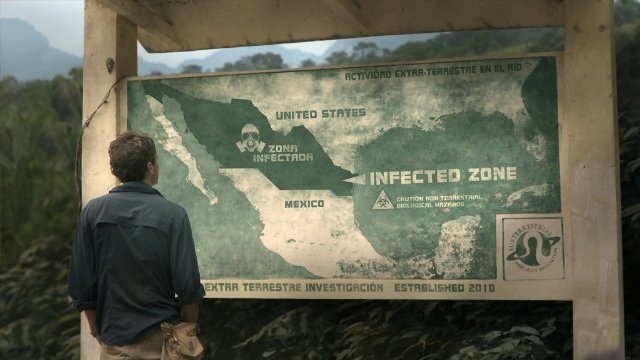 The best film I screened at the Cannes Film Festival this year was a sci-fi monster movie titled Monsters, which had originally premiered at SXSW. The film and director have been the talk of Hollywood ever since. Is he the next Neill Blomkamp?
The movie is set six years after a NASA probe crashed over Central America, causing the quarantine of half of Mexico. The story follows a US journalist who agrees to escort a shaken tourist through "the infected zone" to the safety of the US border. I've described the film as being "like Lost in Translation, set in Mexico, but with gigantic alien monsters." It is also sure to draw comparisons to District 9, and shows shades of Jurassic Park. But the movie really isn't about big budget effects, or jump scares, or the usual independent horror cliches. Instead the movie focuses on the two characters at the center of the story, and their experiences in this new world of terror. What sets it aside from most modern "horror" films is that you actually care about the characters, so that when a dangerous situation looms, the usually blood, guts and explosions aren't necessary.
When we reported that the film had a production budget of just $15,000 "but looked 700 times more expensive", some people in the comments freaked out — "you can't make a monster movie for $15,000! the crew costs more than that! The camera costs more than that!" Best Buy has released a behind the scenes making of featurette on the movie showing how director Gareth Edwards was able to achieve what he did on such a low budget. Watch it now, embedded after the jump.