Stephen Graham's Pirates 4 Role: Johnny Depp's Sidekick; Plus First Pics Of New Ship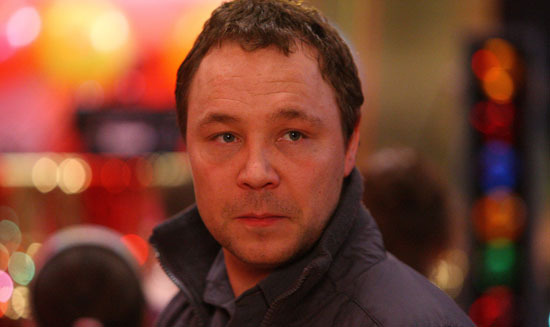 Pirates of the Caribbean: On Stranger Tides is gearing up to shoot in the next few weeks, so it's time to hear about all the additional cast that will join Johnny Depp, Penelope Cruz and Ian McShane under the direction of Rob Marhsall. A few weeks back we mentioned that Stephen Graham was among the new recruits. He was recently seen in The Damned United and Public Enemies, but possibly best remembered for acting opposite Jason Statham in Snatch. ("Dags? Oh...DOGS.") After Pirates 4, he might be best remembered for playing sidekick to Jack Sparrow.
Variety says Graham will be "Scram, a Machiavellian pirate," who'll be "a sidekick to Johnny Depp's Captain Jack Sparrow." The latter aspect is all the new info that is offered, but I'll say this: I like Graham as a sidekick a hell of a lot more than I like Orlando Bloom. (Although, to be fair, I rewatched the first Pirates after seeing Prince of Persia, and was happy to see that it holds up — including Bloom's work — as a lively adventure story.)
So that gives us a cast that features Depp as the returning Captain Jack Sparrow; Ian McShane as the pirate Edward Teach, aka Blackbeard; and Penelope Cruz as his daughter, a foil for Sparrow. Sam Claflin and Max Irons are in the film, too, and French actress Astrid Bergès-Frisbey plays a mermaid named Syrena.
In the meantime, AICN got the first pics of what seems to be a pirate ship being built for the film — check the skeleton on the bow. If that's a government vessel, I'd love to know what country employs it.