This Week In DVD & Blu-Ray: Alice In Wonderland, The Wolfman, And More
We may receive a commission on purchases made from links.
This Week in DVD & Blu-ray is a column that compiles all the latest info regarding new DVD and Blu-ray releases, sales, and exclusive deals from stores including Target, Best Buy and Fry's.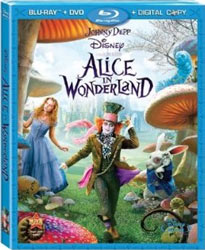 ALICE IN WONDERLAND(Blu-ray available as single-disc and 3-Disc Combo Pack: Blu-ray + DVD + Digital Copy)
I'd call Alice in Wonderland a misguided effort, but I'm not so sure director Tim Burton put forth much of an effort. At this point he's in sleepwalk mode, content to wear out the Burton brand until Hot Topic goes out of business or is burned to the ground. I imagine a lot of time was saved during the film's production by simply asking for everything to be made "more Burton". For a filmmaker who prides himself on weirdness, it's curious that he's managed to take this supposedly original rendition of these classic, outlandish tales and grind out such an inert, formulaic bore. The movie isn't exactly unwatchable; it's just sort of there. Too much of an attempt has been made to fashion a straightforward narrative of the proceedings, with little attention paid to bringing a sense of vitality or genuine personality to the world or the characters that inhabit it. The CGI looks nice and expensive, but the design is so deliberately ostentatious that it ends up distracting more than immersing. There's nothing to latch on to here—nothing to care about. Mostly it's just a movie about a girl who shuffles lifelessly between different characters while being warned about "the Jabberwocky". By the time the film reaches its climactic battle sequence, with a sword-wielding, armor-clad Alice, the moment doesn't feel earned; it feels like it belongs in an entirely different movie. Even the film's smaller moments, like the obligatory payoff to a previously set-up gag about the Fudderwacken dance, come across as empty attempts to elicit any sort of an emotional response. I'm not trying to paint the movie as some grand, spectacular failure, because it isn't, but after seeing Johnny Depp's lispy, accent-changing portrayal of the Mad Hatter, I can't help but imagine how much better it could've been if there was a little more restraint and a whole lot less Fudderwacken.
Available on Blu-ray? Yes.Notable Extras: DVD – 3 featurettes ("Finding Alice", "The Mad Hatter", "Effecting Wonderland"). Blu-ray – Includes everything on the DVD, as well as additional featurettes ("The Futterwacken Dance", "The Red Queen", "The White Queen", "Scoring Wonderland", "Stunts of Wonderland", "Making the Proper Size", "Cakes of Wonderland", "Tea Party Props", "Time-Lapse: Sculpting the Red Queen").
BEST DVD PRICE
Target
Best Buy
Fry's
$16.99
$16.99
$12.99
Amazon – $15.99
BEST BLU-RAY PRICE*
Target
Best Buy
Fry's
$22.99
$19.99
$19.97
Amazon – $19.99
*Does not include 3-Disc Edition, which costs $24.99 at Amazon and Fry's, and $26.99 at Target and Best Buy.
EXCLUSIVE DEAL:What? 3-Disc Blu-ray Combo Pack includes special packaging and collectible character cards.Where? Best Buy.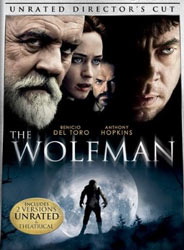 THE WOLFMAN
Had The Wolfman been a more competently made film, I'm not sure it would've been as entertaining. The constant tonal shifts, from moody and serious to silly and campy, are jarring to the point of amusement, even more so when the movie starts unloading jump scares in rapid-fire bursts. It can be dreadfully dull at times—any scene between Benicio Del Toro and Emily Blunt being a prime example—but those solemn moments make the film all the funnier whenever it goes into goofy wolf-mode. If there's one area I can say I was pleasantly surprised by, it's the violence. This is not a PG-13 movie. This is a head-lobbing, throat-slashing, intestine-spilling hard R movie, and as out of place as it may feel, the excessive brutality of it all makes for some fun times. Anthony Hopkin's scenery-chewing performance suggests he's in on the joke, but the deathly seriousness of Del Toro (surprisingly terrible here) makes me wonder if anybody knew what type of movie they were trying to make. Given the relationship between their characters, it's ironic that both actors would find themselves on opposite ends of the film's tonal dichotomy, since that struggle could very well be representative of the movie itself.
Available on Blu-ray? Yes.Notable Extras: DVD – Deleted and extended scenes. Blu-ray – Includes everything on the DVD, as well as 2 alternate endings, featurettes ("Return of The Wolfman", "The Beast Maker", "Transformation Secrets", "The Wolfman Unleashed", "Werewolf Legacy, Lore and Legend"), a Take Control feature with make-up artist Rick Baker and others, U-Control features, and a digital copy of the film.
BEST DVD PRICE
Target
Best Buy
Fry's
$17.99
$17.99
$15.97
Amazon – $17.99
BEST BLU-RAY PRICE
Target
Best Buy
Fry's
$24.99
$26.99
$19.97
Amazon – $26.99
EXCLUSIVE DEAL:What? Exclusive 2-Disc DVD ($22.99) featuring bonus material including behind-the-scenes footage of the making of The Wolfman.Where? Best Buy.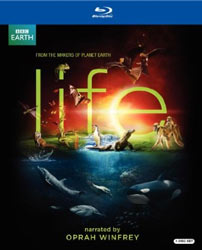 LIFE
Those planning on picking up BBC's nature documentary series are presented with a choice: you can have it narrated either by David Attenborough, or by Oprah Winfrey. The latter version may have the prettier cover art, but the former has David Attenborough. I think the choice is clear. Really, the more worthy discussion here is why Discovery thought it necessary to redo the narration to begin with. An obvious explanation is that Oprah's name is a big draw, regardless of what it is she's attached to. Another is that Americans are xenophobic, and British accents are scary. A third is that Discovery is under the impression that audiences would prefer to be read bed time stories rather than experience the depth and power of true insight. I'm gonna go with all three.
Available on Blu-ray? Yes.Notable Extras: DVD & Blu-ray – 10 production video diaries, deleted scenes, and a "Music Only" viewing option.
BEST DVD PRICE
Target
Best Buy
Fry's
$39.99
$39.99
$39.97
Amazon – $39.99
BEST BLU-RAY PRICE
Target
Best Buy
Fry's
$49.99
$44.99
$48.97
Amazon – $48.99
Other noteworthy DVD (and Blu-ray) releases this week...Burn Notice (Season 3) – Aqua Teen Hunger Force (Vol. 7) – Rescue Me (Season 5) – The Red BaronNoteworthy Blu-ray-specific releases this week...War of the Worlds – Bad Boys – The Man with No Name Trilogy – Pale Rider – Absolute Power – Clint Eastwood Collection

NOTES: Some deals may be in-store only. All deals are for DVDs unless otherwise noted.

$9.99 – Blu-ray sale: Blazing Saddles, Righteous Kill, A Few Good Men, Major League$4.75 – Fargo, Grandma's Boy

$9.99 – Blu-ray sale: First Blood$12.99 – Blu-ray sale: No Country for Old Men, Tombstone, Armageddon$14.99 – Blu-ray sale: Drag Me to Hell, Star Trek: The Wrath of Khan, Law Abiding Citizen$15.99 – Blu-ray sale: Surrogates, Pirates of the Caribbean: At World's End

$8.99 – Blu-ray sale: Rocky Balboa, Walk Hard, The Grudge, Resident Evil: Extinction, 21$9.99 – Blu-ray sale: La Femme Nikita, Kramer vs. Kramer, Roxanne, Cruel Intentions, and more...$18.99 – 24 (Season 1, 2, 6, 7)