John Hillcoat Approached To Direct Remake Of Jean-Pierre Melville's The Red Circle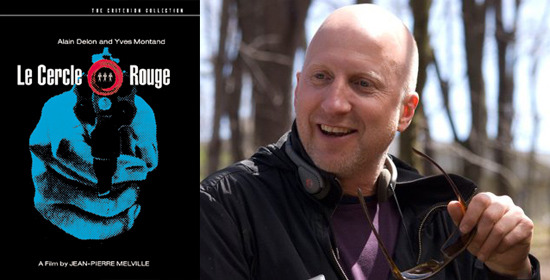 Jean-Pierre Melville's film Le Cercle Rouge (aka The Red Circle) has been possible remake fodder for years. John Woo had his eye on it at one time (he's long been a Melville devotee) and over the last couple of years it looked like Johnnie To was going to direct his own version. (Which was an idea that thrilled me, frankly.) Now John Hillcoat is being pursued as the latest director, and is actually talking about the project, at least in cautious terms.
Talking to Vulture last week, Hillcoat said that in addition to The Revenant, he's has "another contemporary thriller, crime thriller, set in Hong Kong and Macao." Then The Playlist poked through the latest issue of Production Weekly and found Hillcoat's name attached to the remake of Le Cercle Rouge that Media Asia has been trying to put together for years. An offer has been put to Hillcoat to direct.
Melville's original film features Alain Delon (also of Melville's amazing Le Samourai) with Yves Montand and Gian Maria Volonté as an odd trio joined together in robbery; their efforts culminate in a wonderful 20-minute+ heist sequence that rivals the famous robbery in Rififi. A brief synopsis of the film:
Master thief Corey (Alain Delon) is fresh out of prison. But instead of toeing the line of law-abiding freedom, he finds his steps leading back to the shadowy world of crime, crossing paths with a notorious escapee (Gian Maria Volonté) and an alcoholic ex-cop (Yves Montand). As the unlikely trio plots a heist against impossible odds, their trail is pursued by a relentless inspector (André Bourvil), and fate begins to seal their destinies.
Would this still be based on Eastern Promises writer Steve Knight's screenplay, which was what Johnnie To was working from? We don't know that, but Hillcoat is certainly a great choice for the deliberately paced and madly tense burn of Le Cercle Rouge. The original is all about cool, detached atmosphere, and Hillcoat's own style could well distinguish the remake from the original, while still keeping a handle on the machinations that are so important to the plot.
To's version at one point had Orlando Bloom set to star as Alain Delon's character, with Delon actually appearing in the film as well. Chow Yun-Fat, Liam Neeson and Tim Roth were all names attached, too, but we don't know if any are still part of the film.
Le Cercle Rouge is available to stream via Netflix, and I can't recommend it highly enough.