Casting Notes: Thomas Dekker In Footloose?; Wes Bentley In Tilda; Tim Blake Nelson In Flypaper; Ty Burrell And Angelica Huston In Goats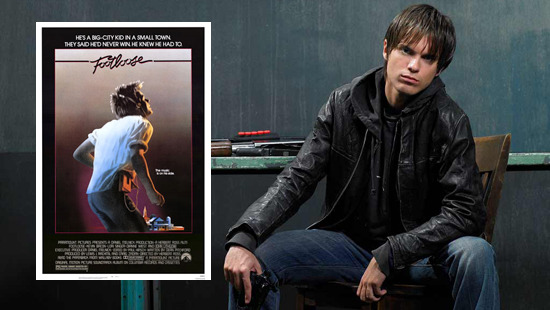 Because I know that casting news on the delayed remake of Footloose is what you're all more hungry for than anything else, here's the only casting note that matters this week: Thomas Dekker (Heroes, Terminator: The Sarah Conner Chronicles, Kaboom, A Nightmare on Elm Street) is apparently the latest top candidate to play 'Two Degrees of Kevin Bacon,' as, if cast, he'd step into the shoes of Bacon's classic character from the original film.
Zac Efron and Chace Crawford have both been linked to the film, but in the last few months they've passed, and the directorial baton has been handed from Kenny Ortega to Craig Brewer. This isn't hard and fast casting, though, so there's still a chance  (There's also an open casting call for guys 18 and up to play high schoolers.) [LAT]
After the break, better news, because it doesn't involve the Footloose remake.
Wes Bentley, David Harbour and Leland Orser are all joining Tilda, the HBO series about a movie blogger. (Seemingly heavily influenced by Nikki Finke and her site Deadline Hollywood.) Diane Keaton and Ellen Page are already on board as the Finke-like character and a young girl who falls into her orbit. Now Bentley will play the title character's "often called upon cute young IT guy whose relationship with her bleeds beyond just fixing her computer," while Harbour will play a rival old-school columnist, and Orser will be the head of a movie studio. I was already psyched about this because of all the in-joke possibilities, and I kinda love that Keaton's character gets to sleep with a guy half her age. That's a reversal of the typical pattern. [Deadline]
Tim Blake Nelson is joining the cast of Flypaper, where he'll play Peanut Butter, "part of a team that's inseparable and stupid. They have come on an inside tip to crack the bank ATM – with way too much C4." Rob Minkoff is directing from a script by Jon Lucas and Scott Moore. That's the writing team behind The Hangover; we'll see if this one turns out to be as funny without Todd Phillips and his crew rewriting it. [Variety]
Goats, an adaptation of the coming of age story by Mark Jude Poirier, to be directed by first-timer Christopher Neil, seems to be adding new names. Anjelica Huston, Thomas Haden Church and Ty Burrell are all listed in a Production Weekly report on the film. [Print edition; info via The Playlist]
Originally announced as part of the cast were Hopper Penn (son of Sean Penn and Robin Wright), David Duchovny, Robin Wright, Josh Brolin, Jason Schwartzman and Robert Schwartzman. Seems like most, if not all those names are no longer part of the project. Too bad about that.
Here's a rundown of the book:
Fourteen-year-old Ellis is getting ready to leave the Southwest for a boarding school in the East. This means leaving behind his mother and the only real father he has ever known, Goat Man. Goat Man has done more for Ellis than giving him his first bong hit. He has maintained a home on Ellis's mom's property rent-free since Ellis was a child, taking care of small tasks and raising a herd of goats — all the while teaching Ellis the meaning of stability, caretaking, and commitment.
At boarding school, making the grade while staying (mostly) high, Ellis finds Goat Man's influence thrown into stark relief. And when a skeptical Ellis returns for spring break, he and Goat Man are forced to reevaluate a relationship they thought was the only thing that would never change in their crazy lives.