Exclusive: Making Of Carl Erik Rinsch's The Gift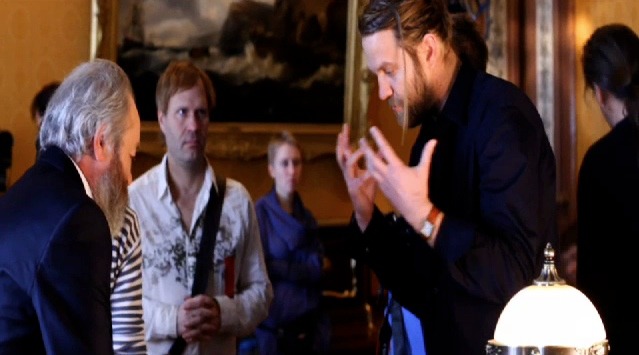 In April, Philips released their collaboration between five filmmakers from Ridley Scott Associates, called Parallel Lines. Scott's commercial division RSA was asked to create a series of groundbreaking short films in a genre of their choice, using "the same unifying theme." RSA directors submitted forty-five treatments and Philips selected five it believed were most ground-breaking: Jake Scott, Greg Fay, Johnny Hardstaff, Carl Erik Rinsch, and Hi-Sim.
Philips has provided us with an exclusive behind the scenes making of video for Carl Erik Rinsch's futuristic action thriller short film The Gift, which you can watch right now embedded after the jump.
Rinsch was originally tapped to direct a prequel/remake of Alien, but Fox convinced/pushed Ridley Scott to helm the project himself. Rinsch's commercials show an amazing sense of imagination, visual effects artistry and composition (watch them now). The Gift spawned a bidding war between several big Hollywood movie studios, including Warner Bros and Fox, to turn the short film into a feature. We even broke more information about the project, titled Small, and posted some leaked concept renderings. Rinsch is developing a remake of Creature From The Black Lagoon and is in preproduction on an epic period samurai film titled 47 Ronin to star Keanu Reeves, also for Universal. 20th Century Fox considered the filmmaker for the Bryan Singer-produced X-Men Origins: First Class, but Carl ultimately lost out to Kick-Ass director Matthew Vaughn. It was recently announced he will direct a remake of Logan's Run for Warner Bros.
Watch The Gift now:
The Gift: A robotic manservant flees the police in the futuristic action thriller.Directed by Carl Erik Rinsch.
At just 14 years old, Rinsch had his first film shown at both the New York and Tulleride Film Festivals. Since then he has worked as a photojournalist for Rolling Stone magazine, and now as a director has received accolades including the D&AD/Campaign Screen Award for Best New director. He was fortunate to have been included in the Saatchi & Saatchi New Directors' Showcase at Cannes. Rinsch's work includes visually stunning and memorable commercials for the likes of BMW, Earthlink, Sprite and the SciFi Channel.
Behind the Scenes Making Of:
[flv:http://media2.slashfilm.com/slashfilm/trailers/TheGiftMO.flv 550 412]
Tell It Your Way Competition
Philips is also holding a competition called 'Tell It Your Way' which will give one lucky winner the chance to gain a week's work experience at Ridley Scott Associates (RSA) offices in Los Angeles, New York, London or Hong Kong. The contest involves creating an original sixth short film (under 3 mins, in any genre) to accompany Parallel Lines series of short films, following the same six line dialogue. Quote from Ridley Scott:
"I'm delighted to be involved with a project which supports aspiring directors and I'm looking forward to seeing how the entrants interpret the single dialogue brief."
Competition entries are open to anyone globally and should be submitted via the Philips Cinema YouTube channel (www.youtube.com/philipscinema). Entries close at midnight 8th August 2010. Three rounds of judging will be held including public voting via YouTube. Finalists will be judged on criteria including creative storytelling, use of dialogue, and technical achievement. The top ten finalists will be selected by RSA directors and British Academy of Film & Television Arts (BAFTA) Chairman, David Parfitt. The overall winner will be selected from the top five finalists by Sir Ridley Scott. Runners up prize packages include an invitation to a RSA film premiere in London or New York including travel, accommodation; and a number of Philips Cinema 21:9 Televisions.