Tommy Lee Jones Confirmed For Captain America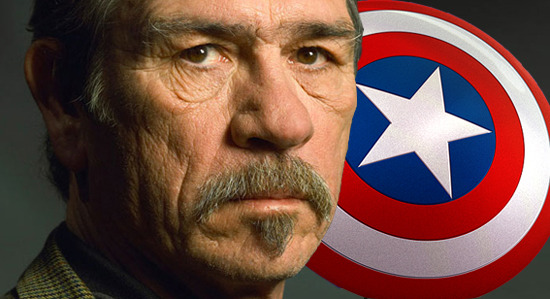 There was a rumor a couple of weeks back that Tommy Lee Jones would have at least a small part in Captain America: The First Avenger. Now an interview with actress Hayley Atwell, who plays Peggy Carter in the film, has confirmed Jones' appearance.
Atwell spoke on camera to press at the BAFTA television awards, saying,
I have yet to meet Tommy Lee Jones...Although I think I have a scene with him, which I'm really looking forward to doing. And Samuel L. Jackson, who, I'm sure, he's got better things to do than come and meet me for five minutes, but I'm sure I'll get a chance to later.
Still no confirmation of the role for Jones, though suspicion continues that he'll play General Chester Philips. The Marvel wiki summarizes Philips' role in the Captain America story:
General Phillips hand picked 4-F army reject Steve Rogers to become a part of the 1940 Operation Reborn experiment. In particular, he admired Rogers patriotic spirit. Later, Phillips was a part of picking Rogers as the eventual Super-Soldier Captain America. Phillips also oversaw Rogers initial training as well as some of his early missions.
Atwell's comments also suggest other things about the film. She says she's training six days a week so that it will be more convincing when her character "kicks butt," so we can expect her to be a part of an action scene or two, which will be a good change from the typical comic book movie female lead. Expect Jones' part to be fairly small, though — if he's playing Philips then he'll likely be relegated to setting the plot in motion and then being around for reaction shots and the occasional bit of exposition. Still, it'll be great to have th gravitas of Jones in the film.
Here's the interview; the Captain America comments begin at 2:25. [via CBM]