Steve Carell May Play 'We Built This City' Songwriter Dennis Lambert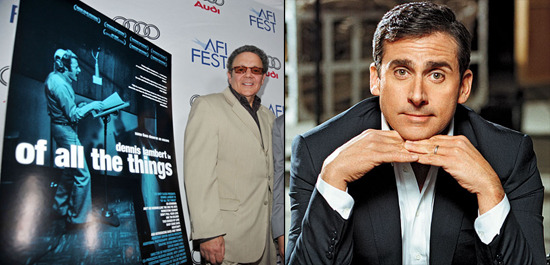 This article requires a bit of backstory. Dennis Lambert is the subject of a 2008 documentary Of All the Things, which told his backstory as a songwriter ('Rhinestone Cowboy,' Nightshift,' 'We Built This City') and singer whose one album, awkwardly titled Bags and Things, bombed in the US but became massively popular in the Philippines. At the age of 60, long after Lambert had retired from the music business and become a Florida real estate broker, he was convinced to do a five-date tour of the Philippines, where he was received with at least occasional rapture. Jody Lambert, the singer's son, filmed the tour, which became the documentary.
Now Warner Bros. is negotiating a deal for the remake rights to Of All the Things, and wants Steve Carell to play the singer.
This could be a great role for Carell, as Lambert's story has a lot of heart and humor. Retired singer turned realtor goes on tour in the Philippines, where he plays sappy pop songs? There's something there. But the documentary, while entertaining and heartfelt, is a little thin as it is — there's not much drama or conflict there. The throughline is basically that a Philippine promoter wore Lambert down, set up the shows, and he played them. The biggest issues he had to contend with were some logistical problems and a couple of awkward on-stage problems with his locally-recruited backing band and an uncooperative drum machine.
Would a feature be more of a comedy, or a drama? It would almost certainly have to deviate from reality, which doesn't have to be a bad thing. And there's a lot of stuff to mine in Lambert's past: this is the guy who wrote 'We Built This City!' (As Lambert has said, if you're going to write a song that ends up on the 'worst pop songs of all time' list, you might as well write the tune that claims the top spot.) It would be very easy to make a lot of Lambert's music into a joke, but that could turn ugly really fast. [Vulture]
Here's a clip from Of All the Things, which still doesn't have distribution in the States. (I saw it at the Independent Film Festival Boston last year.)