Exclusive: Making Of Jake Scott's The Hunt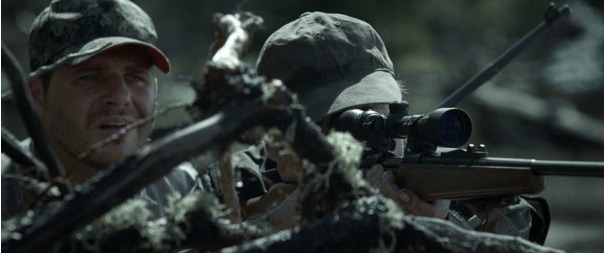 In April, Philips released their collaboration between five filmmakers from Ridley Scott Associates, called Parallel Lines. Scott's commercial division RSA was asked to create a series of groundbreaking short films in a genre of their choice, using "the same unifying theme." RSA directors submitted forty-five treatments and Philips selected five it believed were most ground-breaking: Jake Scott, Greg Fay, Johnny Hardstaff, Carl Erik Rinsch, and Hi-Sim.
Philips has provided us with an exclusive behind the scenes making of video for Jake Scott's mystical horror short titled The Hunt, which you can watch right now embedded after the jump. As you know, Scott guest blogged for /Film during Sundance, where his feature film Welcome to the Rileys premiered at the fest.
The Hunt: Carl sights his prey in the mystical horror. Directed by Jake Scott.
Scott gained early directorial prominence with REM's Everybody Hurts which won multiple MTV awards, a Grammy nomination and was inducted into the MVPA Hall of Fame in 2005. He has also directed videos for U2, No Doubt, Radiohead, Smashing Pumpkins, The Strokes and George Michael, and has two videos in the MTV 100 best videos of all time. In 2003, Scott won an Emmy for Best Commercial, three AICP awards and an Andy for his work on Nike's Move. In 2005, Scott won a Silver Lion awards in Cannes for his work on Adidas in addition to winning two CLiOs for the same brand spot. Scott was nominated for a Grammy for direction of George Michael's Flawless for Best Music Video and received three AICP awards for his work with Nike's Magnet. In 2008, his work on HBO's Voyeur won him a Grand Prix and a Cyber Lion at Cannes, Scott has recently completed his second film, Welcome to the Rileys starring Kristen Stewart and James Gandolfini and Academy Award nominee Melissa Leo, which has just screened at this year's Sundance Film Festival.
Watch The Hunt now:
Behind the Scenes Making Of:
[flv:http://media2.slashfilm.com/slashfilm/trailers/TheHuntMO.flv 550 412]
Philips is also holding a competition called 'Tell It Your Way' which will give one lucky winner the chance to gain a week's work experience at Ridley Scott Associates (RSA) offices in Los Angeles, New York, London or Hong Kong. The contest involves creating an original sixth short film (under 3 mins, in any genre) to accompany Parallel Lines series of short films, following the same six line dialogue. Quote from Ridley Scott:
"I'm delighted to be involved with a project which supports aspiring directors and I'm looking forward to seeing how the entrants interpret the single dialogue brief."
Competition entries are open to anyone globally and should be submitted via the Philips Cinema YouTube channel (www.youtube.com/philipscinema). Entries close at midnight 8th August 2010. Three rounds of judging will be held including public voting via YouTube. Finalists will be judged on criteria including creative storytelling, use of dialogue, and technical achievement. The top ten finalists will be selected by RSA directors and British Academy of Film & Television Arts (BAFTA) Chairman, David Parfitt. The overall winner will be selected from the top five finalists by Sir Ridley Scott. Runners up prize packages include an invitation to a RSA film premiere in London or New York including travel, accommodation; and a number of Philips Cinema 21:9 Televisions.