Kung Fu Panda Sequel Casts Jean-Claude Van Damme, Michelle Yeoh, And Victor Garber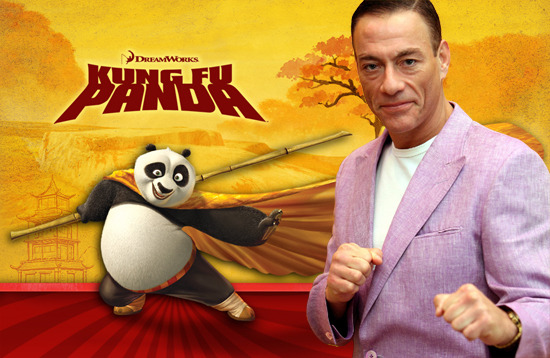 What a strange cast! Kung Fu Panda: The Kaboom of Doom, the sequel to the 2008 DreamWorks animated adventure film, has just added three actors: Jean-Claude Van Damme, Michelle Yeoh, and Victor Garber. The idea of Yeoh and Van Damme being in the film is entertaining, but when it will be only as voice actors? Perhaps slightly less so. OK, fine: Van Damme could be hilarious.
DreamWorks issued the casting update, which goes along with last week's addition of Gary Oldman. We know that Oldman will play the chief villain: Lord Shen, a peacock. Yeoh will play The Soothsayer, a goat, while Van Damme and Garber will play martial arts masters: Master Croc and Master Thundering Rhino.
Producer Melissa Cobb says,
In the sequel, Po goes on an amazing personal journey and we are thrilled to have assembled such a talented and well-respected group of actors to bring to life our new characters, who – alongside our returning cast – play such a critical role in Po's quest and his ultimate triumph over the forces of evil.
OK, sure. Sounds like producer-to-press speak, so we'll just wait and see. We've heard before that the film might follow Po and The Furious Five as they attempt to overcome an anti-kung fu weapon, while another thread involves Po's search for other pandas, aided by Lord Shen before his villainous reveal, and an encounter with bandits.
The new cast will join returning voice actors Jack Black, Angelina Jolie, Dustin Hoffman, Jackie Chan, Seth Rogen, Lucy Liu, David Cross and James Hong.
Granted, none of this info is nearly as interesting as the rumor that Charlie Kaufman did a script polish on The Kaboom of Doom. But assuming that story is true, we're not even likely to know which parts of the film Kaufman worked on.
The 3D film will open on May 27, 2011.