Casting Notes: Jesse Eisenberg In 30 Minutes Or Less? Jake Abel In I Am Number Four, Olivia Thirlby Replaced By Riley Keough In Jack & Diane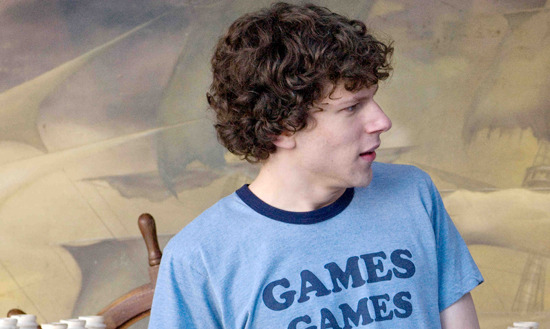 Will Jesse Eisenberg reunite with his Zombieland director Ruben Fleischer in the latter's upcoming film 30 Minutes or Less? That's the suggestion of a Production Weekly print report (via The Playlist) which links the actor to the film, which already has Aziz Ansari in the cast.
Eisenberg and Ansari would be friends Will and Chet, who have a falling out before Will falls in with criminal types Danny McBride, Nick Swardson and Michael Pena, who forcibly recruit him for a crime. Sounds a bit like Pineapple Express (which The Playlist notes) and it's easy to see Fleischer bringing his Zombieland energy to the story. I've read the first thirty pages of the script, and there's some very funny stuff for Eisenberg, Ansari and the rest of the cast to dig into.
After the break, new talent for I Am Number Four and more changes for Jack and Diane.
The Michael Bay-produced I Am Number Four, directed by DJ Caruso and based on the new sci-fi novel series co-authored by James Frey, already has a pretty great cast: Timothy Olyphant, Kevin Durand, Teresa Palmer and Alex Pettyfer. Shame about losing Sharlto Copley, but there's nothing that can be done about that. Now Jake Abel, last seen in Percy Jackson and the Olympians, has signed on. Abel will play Mike, a high school football player who is suspicious of Pettyfer, who is an alien masquerading as a human student. [MTV]
Finally, the 'not really a lesbian werewolf movie' Jack and Diane has had another cast replacement. At one point the film was set to star Olivia Thirlby and Ellen Page, but funding took a long time to come together, and Page dropped out. She was replaced by Allison Pill, who also eventually dropped out, to be replaced by Juno Temple. Now Olivia Thirlby is out, with Riley Keough (The Runaways, daughter of Lisa Marie Presley) replacing her.
So, to recap, the primary cast duo is Juno Temple and Riley Keough. For now. [B-D]
Here's the synopsis, in case five years of reporting on this one has escaped you:
Jack and Diane, two teenage girls, meet in New York City and spend the night kissing ferociously. Diane's charming innocence quickly begins to open Jack's tough skinned heart. But, when Jack discovers that Diane is leaving the country in a week she tries to push her away. Diane must struggle to keep their love alive while hiding the secret that her newly awakened sexual desire is giving her werewolf-like visions.