Tarantino News: 'Jackie Brown' Prequel On The Way Without Quentin; Friars Club Roast Announced; Unreliable Rumors Of Dracula Development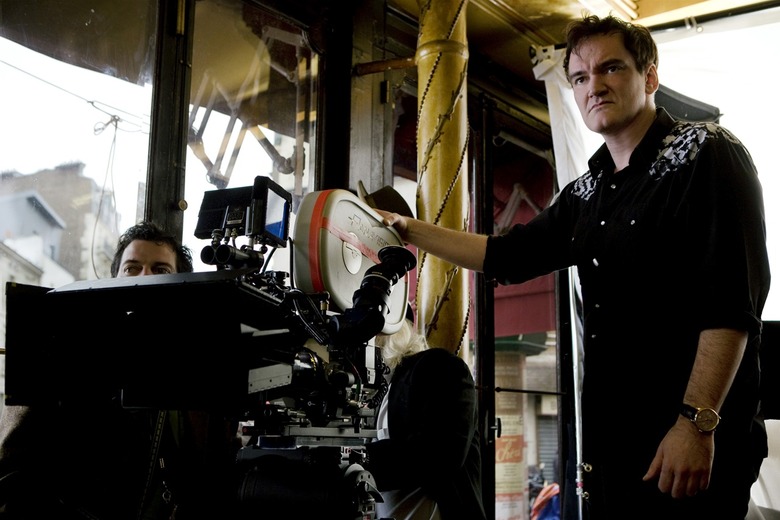 Is there something in the air this week? Out of nowhere come a series of three odd Tarantino-related news bites and rumors. First up, there is the new production of The Switch, based on Elmore Leonard's novel of the same name. The other way to talk about The Switch is that it is a prequel to Jackie Brown, as it features the first chapter in the association of the Sam Jackson and Robert De Niro characters from Tarantino's film. (Still my favorite of his, I think, and still divisive amongst many other fans.) The Switch leads into Leonard's novel Rum Punch, which Tarantino very loosely adapted into Jackie Brown.
But the film is scripted by Dan Schechter, and there isn't yet any attached director or cast. Tarantino won't be involved, though the report is that he has given his blessing to the film, whatever that means.[JoBlo]
After the break, a roast and a rumor.
On October 1, Tarantino will be roasted by the Friar's Club, says Variety. In other words, prepare yourself for an evening of jokes about how fast Tarantino talks, the size of his chin and his life in movies. But it might not be all bad; some of the Friar's Club roasts that have aired on Comedy Central in the last decade had flashes of genius. Betty White has been amazing on a couple, and the interaction between George Takei and William Shatner during Shatner's roast was funny as hell.
Finally, there is a rumor going around, based on reports in Austrian and Romanian papers, that Tarantino is scouting locations for his own take on Dracula. While, OK, on one hand that sounds like a pretty great thing, on the other, it's probably total bunk. The papers don't actually quote sources, so we're basically getting fourth-hand info. There's also the possibility, as The Quentin Tarantino Archives mentions, that if Tarantino is in fact scouting castles in Austria for a film, the most likely reason is for the discussed offshoot of Inglourious Basterds.