Trailer: 2010 Palme d'Or Winner 'Uncle Boonmee Who Can Recall His Past Lives'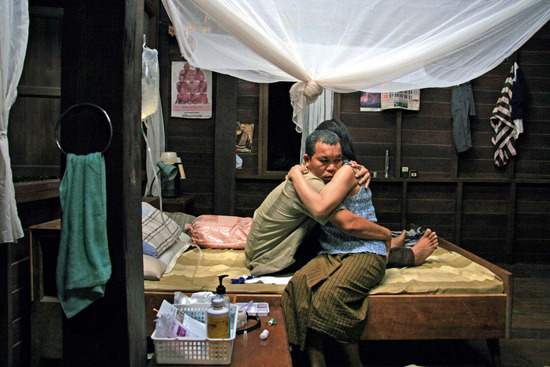 Even though this year's Cannes was a more low-key affair than the last couple years, without a lot of obvious stand-out award magnets, I think the Palme d'Or win by Uncle Boonmee Who Can Recall His Past Lives, by Thai filmmaker Apichatpong Weerasethakul, probably came as a surprise.
In the first place, Weerasethakul (who kindly goes by the name 'Joe', or 'Joe W.') isn't super-well known outside of festival and cineaste circles. That's despite the fact that his films Blissfully Yours and Tropical Malady both did well at Cannes, winning Un Certain Regard and the Jury Prize in their respective years, and got some good attention and North American DVD releases.
And Uncle Boonmee Who Can Recall His Past Lives seems to continue Joe's trend of making experimental, oddly paced films that adhere to no logic but their own. Now there's a trailer so you can see some of what Tim Burton and his jury saw.
Anne Thompson points me to the trailer, which is a very beautiful, but quite inscrutable piece of work. It reminds me in ways of Tropical Malady, in which a country love story gave way to a legend about a shapeshifting shaman who becomes a tiger. Like some of what we see here, the first half of Malady is quiet and very matter of fact; the second half is often photographed in near-darkness, but still presents a compelling, if very challenging tale.
Here's what Joe had to say about Uncle Boonmee in a recent THR interview:
The Northeast [of Thailand, where the film takes place] is arid and dry. It's the most hard part of our country in terms of agriculture, so the people are pretty poor. They migrate a lot to work in the big cities like Bangkok. We have a very big cultural influence from Laos and Cambodia, so there are a lot of animist beliefs and tales that I grew up with but that I had never really explored before. In this film, I give an impression of the landscape and the tales.
I'm really not sure what the audience will get because normally I don't like to have a message of my work. I think film is more than that. It should be more open to many different interpretations because we approach it from so many different backgrounds. Especially for this film, which has six reels, each one different in location and style. With me, there's a lot of talk about life as nonsense. It just goes on. So it is with cinema, too.
I feel like that, plus the trailer, is a better explanation of what you're likely to get from this movie, and from Joe's films in particular, than a simple plot recap.