Cannes: Uncle Boonmee Wins Palme d'Or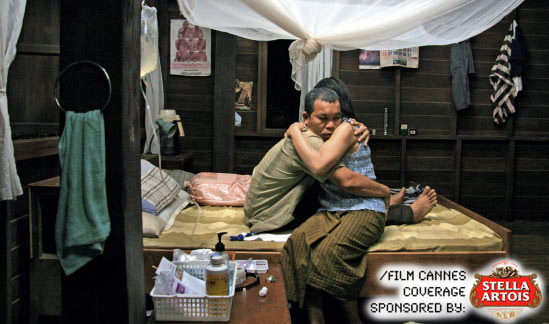 The 63rd Cannes Film Festival has come to a close. And while I still have a couple more reviews to file, I must first write about the awards. As you know, Tim Burton presided over the official Jury this year at the festival, and Sunday night the prize winners were revealed during the closing Ceremony. Full results after the jump.
Official Winners:
Kristin Scott Thomas hosted Charlotte Gainsbourg on the stage of the Grand Théâtre Lumière to award the Palme d'or to the best film among the 19 films in this year's Competition. Julie Bertuccelli's closing film The Tree starring Gainsbourg, was screened at the end of the ceremony.
FEATURE FILMS IN COMPETTION
Palme d'Or
LUNG BOONMEE RALUEK CHAT (Uncle Boonmee who can recall his past lives) by Apichatpong WEERASETHAKUL
Grand Prix
DES HOMMES ET DES DIEUX (Of Gods And Men) by Xavier BEAUVOIS
Award for the Best Director
Mathieu AMALRIC for TOURNÉE (On Tour)
Jury Prize
UN HOMME QUI CRIE (A Screaming Man) by Mahamat-Saleh HAROUN
Best Performance for an Actor
Javier BARDEM in BIUTIFUL réalisé par Alejandro GONZÁLEZ IÑÁRRITU
Elio GERMANO in LA NOSTRA VITA (Our Life) réalisé par Daniele LUCHETTI
Best Performance for an Actress
Juliette BINOCHE in COPIE CONFORME (Certified Copy) by Abbas KIAROSTAMI
Award for the Best Screenplay
LEE Chang-dong for POETRY
SHORT FILMS IN COMPETTIONPalme d'Or
CHIENNE D'HISTOIRE (Barking Island) by Serge AVÉDIKIAN
Jury Prize
MICKY BADER (Bathing Micky) by Frida KEMPFF
CAMERA D'OR
AÑO BISIESTO réalisé par Michael ROWE présenté dans le cadre de la Quinzaine des Réalisateurs
UN CERTAIN REGARDUn Certain Regard Prize – Fondation Groupama GAN pour le cinéma
HAHAHA by HONG Sangsoo
Jury Prize
OCTUBRE (Octobre) by Daniel VEGA & Diego VEGA
The Prize for Best Performance Un Certain Regard
Adela SANCHEZ, Eva BIANCO, Victoria RAPOSO in LOS LABIOS (The lips) by Ivan FUND & Santiago LOZA
CINEFONDATIONFirst Cinéfondation Prize
TAULUKAUPPIAAT (The Painting Sellers) by Juho KUOSMANEN
Second Cinéfondation Prize
COUCOU-LES-NUAGES (Anywhere out of the world) by Vincent CARDONA
Third Cinéfondation Prize
HINKERORT ZORASUNE (The Fith Column) by Vatche BOULGHOURJIAN
A VEC JESAM SVE ONO ŠTO ŽELIM DA IMAM (I Already am Everything I Want to Have) by Dane KOMLJEN
The Jury of the CST has awarded the "PRIX VULCAIN DE L'ARTISTE-TECHNICIEN" to :
Leslie SHATZ, for the sound of the film BIUTIFUL by Alejandro GONZÁLEZ IÑÁRRITU.