/Film Boston: They Came To Play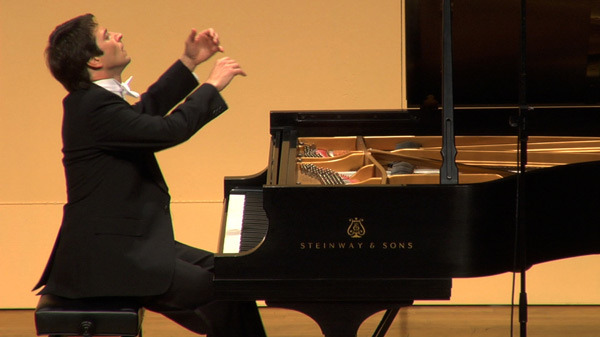 Lots of cool film-related stuff happens in Boston, Massachusetts and not that many people are here to document it, preserve it and spread the word about it. Special screenings, Q&As, panel discussions — we have them all, and frequently too. /Film Boston aims to be a bi-weekly column that will bring you audio and video content from film-related events around the Boston area. If you don't live in Boston, I hope that this column will give you a window into some of the cool stuff that happens here regularly. If you do live here, hopefully you'll come here to get the heads-up on what's been going on, and what is to come.
After the break, thoughts on Alex Rotaru's wonderful music documentary, They Came To Play, which recently screened at the Coolidge Corner Theater in Brookline, MA. Plus, live performances from musicians who were featured in the film.
Years ago, my mother graduated from the Yamaha School of Music in Taiwan. When my brother and I were wee little ones, she trained us in the arts of classical piano. As high school rolled on into college, and college became the working world, music became more and more of a distant memory for me. I felt like I didn't have time to devote 5-8 hours per week to practicing, especially if I wasn't going to perform or teach music for a living. My mind fallaciously divided the world into two categories: there were professional musicians, and then there was everybody else. Sure, some talented people I knew might've still dabbled in music here and there, but none of them possibly had the time to practice at the pro-level. Right?
My woefully flawed thinking was brought to light this past week, when I had the chance to see a special screening of Alex Rotaru's They Came To Play. The film documents the Fifth International Piano Competition for Outstanding Amateurs, hosted by The Van Cliburn Foundation. Rotaru also follows several of the participants as they prepare to play in one of the most difficult competition of their lives.
According to the Van Cliburn website, entrants must be over 35 years old, and must not play professionally. As a result, the participants come from all walks of life. They are doctors, lawyers, engineers, dentists, consultants, project managers, etc. And they are all insanely talented.
As a lover of classical music, I found myself thrilled as I watched They Came To Play. It rekindled my love for the art of performance and introduced me to new pieces, like Scriabin's monstrously difficult Nocturne for the left hand. But it was seeing dozens of middle-aged men and women perform these amazing works that was the most inspiring. Entering the competition was an act of will; winning it, an act of endurance. That these people were able to reach the competition at all was a testament to their commitment to music. With full-time jobs, families, marriages, and life in general to contend with, they still managed to put in the hundreds of hours of practice required to sound like expert pianists. The film serves as a testament to the idea that for some people, music is as essential as breathing, and that no matter who you are, no matter where you are in life, it is never too late to start following your dreams.
It's been a few years since They Came To Play first premiered. The film is still screening at venues across the country (including New York and California) and a DVD will be out for purchase soon. More details at the film's official website.
I had a chance to speak with Suzanna Perez, one of the musicians featured in the film. We spoke about her background and how the competition transformed her life.
When she's not playing piano, Suzanna is a financial consultant for Morgan Stanley Smith Barney. Suzanna was gracious enough to perform for us on Coolidge Corner's stage after the film screened. Here's her rendition of Charles Ives' Concord Sonata:
Robert Finely, another Van Cliburn contest entrant, was also on hand to answer questions and perform for the audience. He previously worked as an Electrical Engineer for General Dynamics. Here, he plays Schumann's Widmung, followed by a Chopin Mazurka:
***
Here's some other cool stuff that's happening in Boston in the near future (some info via the Boston Screening Community). Information is subject to change, so always check with the source before trekking out to the screening:
Thursday, 5/28 - Brattle Theater is hosting their "Reunion Weekend" featuring a "reunion of films celebrating their 25th, 50th, and 75th anniversaries." On this year's schedule? A 35mm print of The Goonies followed by a Real Genius quote-along.Friday and Saturday, 5/28 and 5/29, 11:59 PM - Coolidge Corner is hosting the U.S. Premiere screening of Journey of the Childmen: The Mighty Boosh on Tour. It will feature a "Pre-Boosh celebration and costume contest."Monday, 5/31, all day - The Museum of Fine Arts, Boston will be having an all-day Memorial Day Open House. At 1:45 pm in the Remis Auditorium, there will be a presentation highlighting "films produced by young filmmakers from Mission Hill's Sociedad Latina and the Community Art Center of Cambridge."Friday, 6/4, 8 pm - Coolidge Corner will be screening Fritz Lang's Metropolis (the new one, featuring 25 minutes of newly found footage) with a live performance of the score by Alloy Orchestra. This will be freaking spectacular.Sunday, 6/6, 1:15 pm - Brattle Theater has a special screening of The Lady from Shanghai, followed by a special appearance by Orson Welles' daughter Chris Welles Feder.Throughout the next two weeks - The Harvard Film Archive is presenting Part III of their John Ford Retrospective, featuring his military-related work.
***
For now, /Film Boston is an experiment, a movie travelogue of sorts. I know the camera audio/video quality can be better, but I hope you find it viewable/listenable, as well as entertaining and interesting.
Hosting an event in Boston that you want me to cover? E-mail me at slashfilmcast(AT)gmail(DOT)com. Readers should also feel free to e-mail me if you have any other feedback, or any ideas of what you'd like to see here. What do you like about the column? What don't you like? etc.Like /Film Boston? Subscribe to it by RSS or by e-mail below to receive updates automatically:
Delivered by FeedBurner