Casting Notes: James Franco In Ricky Stanicky; Emma Watson And Logan Lerman Are Wallflowers; Gerard Butler In A Star Is Born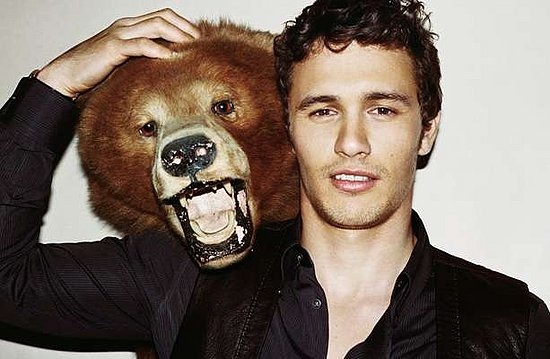 James Franco was just cast in the Planet of the Apes prequel, which instantly makes me a bit more interested in that movie, but in the meantime he's also booked a smaller picture. Franco will star in Ricky Stanicky, a comedy by Jeff Bushell, writer of Beverly Hills Chihuahua.
That dubious credit aside, the spec is intentioned as an R-rated ensemble comedy. And while that means The Hangover is inevitably invoked in the description, the story is about "three teens [who] pull a prank and burn down a house in their neighborhood. They create a fake person to take the blame — Ricky Stanicky did it! Twenty years later, we see that the three guys have been using this alibi to get out of every uncomfortable situation in life. When their wives force them to set up a meeting with Stanicky, they hire an actor (Franco)." OK, not actually a bad setup, and with Franco as the 'imaginary' character, it could work. [THR]
After the break, The Perks of Being a Wallflower finds its, um, wallflowers, and Gerard Butler sings!
Stephen Chbosky wrote the book The Perks of Being a Wallflower, and has now adapted it to a screenplay and will direct the ensuing film. He's got Logan Lerman and Emma Watson in talks to star. That's the first major non-Harry Potter film work for Watson and one more role that puts Lerman away from Spider-Man.
Thanks to some frank talk of kids and their intersection with sex, drugs and suicide, The Perks of Being a Wallflower has stirred some controversy since its publication in 1999. Hopefully that edge will remain in the final film. (Watson fans, line up for tickets now.) The book is told from the perspective of "a shy and unpopular teenager who describes his life by writing a series of letters to an anonymous person and explores the awkward times of adolescence," including the aforementioned subjects. [Variety]
That new version of A Star is Born that has been brewing for months evidently would like to count Gerard Butler among the cast. So says the LA Times, though it's really just that his name is high on a list right now. He may be better for the part than Russell Crowe, the last name floated, but Crowe would be a lot more weird. Too bad that'll never happen. Don't forget that Butler has got some film musical experience, as he played the Phantom in Joel Schumacher's film of Andrew Lloyd Webber's stage production. I kind of hate this article for even reminding me of that movie.