Exclusive Clip: Pixar's Day & Night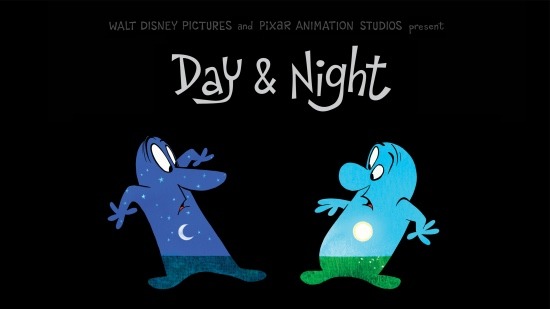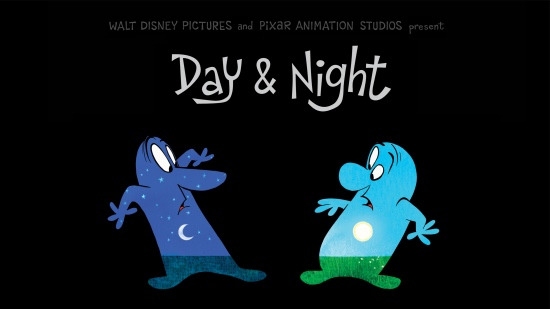 Walt Disney Pictures has given us an exclusive clip from Pixar's next short film, Day & Night, directed by Teddy Newton.
The short, which will be attached to Toy Story 3, features two characters, one filled with day, the other filled with night. While the "inside" of the characters is computer animated, the Day & Night characters themselves are 2D, hand drawn. In Digital Disney 3D, the characters act as a window into a 3D world... its very cool.
You can see what I mean in the exclusive clip after the jump. Don't worry about spoilers, as the clip is short enough not to give anything away — just a good sample of what to expect.
[flv:http://media2.slashfilm.com/slashfilm/trailers/15_Second_Clip.flv 550 412]
Previously:
So what is it about? Here is the official plot synopsis:
When Day, a sunny fellow, encounters Night, a stranger of distinctly darker moods, sparks fly! Day and Night are frightened and suspicious of each other at first, and quickly get off on the wrong foot. But as they discover each other's unique qualities–and come to realize that each of them offers a different window onto the same world–the friendship helps both to gain a new perspective.
Newton is a Cal Arts guy, very respected, considered one of the most influential visual development artists in the field of animation. Composer Michael Giacchino is providing a scrore for the short. The Academy Award-winning composer has been working with Pixar for some time, providing the score for The Incredibles, Ratatoille, Up, and short films Lifted and Partly Cloudy, so it makes sense that he might also be working on the company's next animated short as well. In the late 1990's, Teddy formed a partnership with Giacchino to make animated films, but they apparently couldn't come up with the capital to make it happen.