Field Of Dreams Writer/Director Penning Heist Film For J.J. Abrams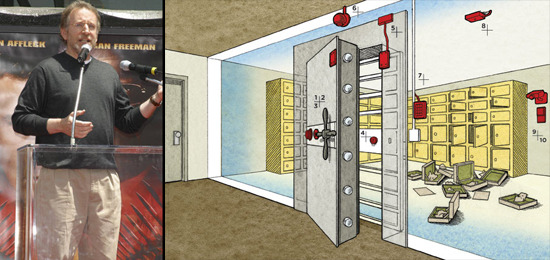 "I may be a thief and a liar, but I am going to tell you a true story."
Those are the words of Leonardo Notarbartolo, spoken from prison as he was serving a sentence for taking part in what has been called the heist of the century.
Last year, Paramount optioned a Wired article that tells his tale: The Untold Story of the World's Biggest Diamond Heist by Joshua Davis. J.J. Abrams and Bad Robot are producing, and now they've hired a screenwriter: Phil Alden Robinson, who wrote and directed Field of Dreams and Sneakers.
The heist is a great one: Notarbartolo was the leader of a crew that evaded ten layers of security including "infrared heat detectors, Doppler radar, a magnetic field, a seismic sensor, and a lock with 100 million possible combinations" to steal $100m worth of diamonds, gold and jewels from the Antwerp Diamond Center. He was arrested after he brazenly stopped by the Diamond Center to pick up his mail. Circumstantial evidence led to a conviction and ten-year sentence. None of the loot has been recovered.
Davis spent months interviewing Notarbartolo from prison; during their talks the thief spilled a great many details about the heist, and offered his own estimation of how much was actually stolen. (Much less than $100m, he says.) The cast of characters has great code names: The Genius, The Monster, The King of Keys, and Speedy. There's even a lingering question about whether the whole robbery was part of a larger scam.
As far as the film goes, THR says that Robinson isn't yet set to direct.
Nice, too, that this news is announced just as thieves steal $600m worth of art in Paris. The theft of paintings by Picasso, Matisse, Braque and Modigliani from the Musee d'Art Moderne seems like a big smash-and-grab rather than an intricately plotted heist, however. Movie heists are infinitely cooler. And a victimless crime! (Unless they're based on true stories.)