Randy "Comes Home" To The Christmas Story House For The Summer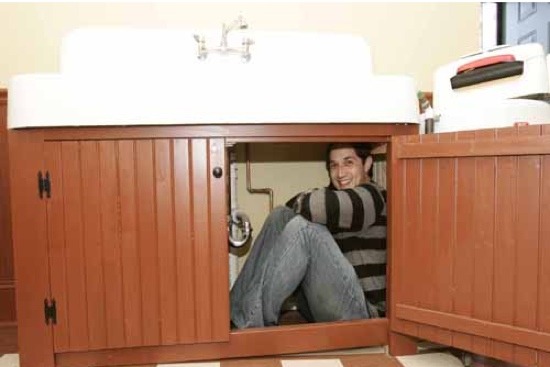 Believe it or not, A Christmas Story was the first film I ever saw in a movie theater. Which is probably one of the reasons I feel more of an attachment to the film than most. I would be afraid to add all the hours of passive viewings over the years. When I was younger, 24 Hours of A Christmas Story would remain on my television set, from the first airing, to it's last – playing in the background for the entire Christmas holiday.
But as much as I love the film, I've yet to feel the need to travel to Cleveland to visit the original home which was used in the film's production. Which is kind of strange because I love visiting real life movie locations. It might be because the house is in Ohio, and I don't ever expect to set foot in the state (no offense to Ohio, its just... out of the way). A few years ago, a fan of the film bought the original house from the movie and restored it to it's original screen-used conditions. The house has been turned into a tourist attraction and museum that is open all year long. A couple years ago they even held a massive Christmas Story fan convention in the city.
This year they have hired 35-year-old actor Ian Petrella, who played Ralphie's little brother Randy in the film, to "come home" and live in the house during the months of July and August, where he will serve as a special tour guide. I guess they couldn't get Peter Billingsley, who played Ralphie in the original film but is too busy as a Hollywood producer (Iron Man) turned director (Couples Retreat). Read the full press release, after the jump.
RANDY COMES HOME TO A CHRISTMAS STORY HOUSE FOR THE SUMMER
CLEVELAND – May 19, 2010 – A Christmas Story House will have a special guest this summer. Actor Ian Petrella, who played Ralphie's little brother Randy in the holiday classic A Christmas Story, will "come home" to live in A Christmas Story House and serve as its tour guide. Ian's "homecoming" will be during the months of July and August. Ian will serve as a special tour guide interacting with visitors and recounting his firsthand experiences at the house during the filming of the movie in 1983.
Fans of the movie will remember little brother Randy for his I-can't-put-my-arms-down snowsuit, his role as Mommy's little piggy and his hiding place under the sink when "Daddy's going to kill Ralphie!"
"I am really looking forward to meeting and interacting with the fans," Petrella said. "I hope that by being there I can make their trip to the house more memorable and special, even if that means crawling back under the kitchen sink to help them relive the movie."
Petrella, 35, of Los Angeles, was only eight during the filming of the movie but remembers the experience vividly. After acting, Petrella transitioned to a career in puppetry and animation. An early supporter of A Christmas Story House, Petrella was the first to loan items to the museum, participated in the grand opening of the house and has returned to Cleveland several times to appear at A Christmas Story conventions and other house-related events.
In addition to giving tours, Ian also will write a blog about his experiences living in A Christmas Story House on www.AChristmasStoryHouse.com. Ian is available for interviews both on and off site to discuss his return to A Christmas Story House, memories of making the movie and his endeavors since.
A Christmas Story House & Museum is located just five minutes from downtown Cleveland at 3159 W. 11th St. in the Tremont neighborhood. It is open year-round on Thursday, Friday and Saturday from 10 a.m. to 5 p.m. and Sunday from noon to 5 p.m. Tours of the house run every 30 minutes. Regular admission tickets are $8 for adults, $7 for seniors, $6 for children (ages 7 to 12) and free for children ages 6 and under. For more information or for directions, visit www.AChristmasStoryHouse.com or call 216-298-4919.