Images From Brad Anderson's 'Vanishing On 7th Street'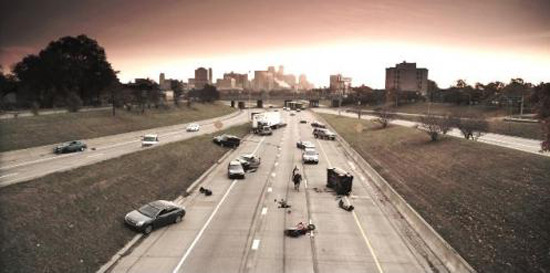 Brad Anderson is a filmmaker I keep expecting to break out at any time. He's made some great smaller thrillers with cultish appeal (Session 9, The Machinist) and built a good parallel career directing episodes of well-loved television shows: The Shield, The Wire, Treme and Fringe. But he hasn't had the crossover movie yet.
Now Anderson is finishing up Vanishing on 7th Street, a thriller that stars Thandie Newton, Hayden Christensen and John Leguizamo. The full official synopsis and some first images are after the break.
The film, written by Anthony Jaswinski, follows this plot:
A mysterious, seemingly global blackout yields countless populations to simply vanish, leaving only their clothes and possessions behind. A small handful of survivors band together in a dimly-lit tavern on 7th Street, struggling to combat the apocalyptic horror. Realizing they may in fact be the last people on earth, the darkness hones in on them alone.
The images look a bit washed-out, so hopefully we'll either see a narrative reason for that, or we'll find that these are early, uncorrected images. [Quiet Earth]
And, since we missed reporting on it last week, Anderson is also now slated to direct Jack, a film about "a serial killer with amnesia." Written by David Venable, the story follows what happens when the killer falls in love with a doctor and faces his resurfacing memories. Does he live a 'normal' life, or, in real Jim Thompson fashion, embrace his inner killer?
Variety says sales for the film are being undertaken at Cannes, so if the money comes together we should hear more soon. Anderson also has The Living and the Dead and All Lost Souls as possible upcoming projects.