Casting Notes: John Hurt In Melancholia; Channing Tatum Is A Junkie; Ellen Page In Freeheld; Alfred Molina In Abduction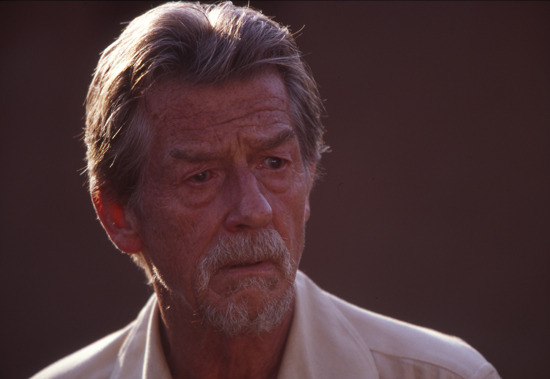 I really want to write more about Melancholia, the upcoming film from Lars Von Trier, but we just don't know very much right now. What we do know today is that John Hurt has joined the cast. Always great to see him in a new film, and it will be nice to see him really in a Trier movie, rather than just hearing him. (Hurt narrated Dogville and Manderlay, and did a fantastic job of it, too.)
Hurt joins Kirsten Dunst, Charlotte Gainsbourg, Kiefer Sutherland, Charlotte Rampling, Udo Kier and Stellan and Alexander Skarsgard. The "beautiful film about the end of the world" shoots in July. [THR]
After the break, Channing Tatum breaks down, Ellen Page dramatizes a doc and Alfred Molina goes after Taylor Lautner.
Channing Tatum is going to have to lose some weight to play the lead in What's Left of Us, a film about a heroin addict trying to make it through a week of detox. The film will be based on Richie Farrell's memoir of the same name. Farrell was also one of the guys behind the documentary High on Crack Street. (Which featured Dickie Eklund, the boxer played by Christian Bale in David O. Russell's film The Fighter.) [Deadline]
In 2008, Cynthia Wade's short documentary Freeheld won an Oscar, and now it is being used as the base material for a feature starring Ellen Page, written by Philadelphia screenwriter Ron Nyswaner. The story follows "New Jersey car mechanic Stacie Andree (Page), and her police detective girlfriend Laurel Hester, who both battled to secure Hester's pension benefits after she was diagnosed with a terminal illness." Page is fairly young for the role, so it can't be a straight adaptation.  [THR]
Finally, Alfred Molina has just joined Abduction, the thriller starring Taylor Lautner. As Deadline says, "Lautner plays a young man who realizes he was kidnapped as a child, and is forced to run for his life after he reaches out to find his real parents. Molina will play a dogged CIA agent who is one step behind, determined to bring the teenager in alive." John Singleton is directing. Molina's hire is the first thing that ignites the slightest interest in me; he can be such a tightly wound, energetic presence that he could make at least some of this one watchable.