This Week In DVD & Blu-Ray: Invictus, The Messenger, Valentine's Day, And More
We may receive a commission on purchases made from links.
This Week in DVD & Blu-ray is a column that compiles all the latest info regarding new DVD and Blu-ray releases, sales, and exclusive deals from stores including Target, Best Buy and Fry's.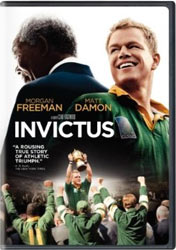 INVICTUS
Some historical events function better as documentary subjects than they do movies. Admirable though the effort may be, Invictus is one of them. The film attempts to balance its weighty subject matter with the trifling appeal of an inspirational sports story, but in doing so, fails to satisfy in either regard. There's nothing rousing about the way rugby is presented here—nothing exciting in the way that it's played. Consequently, all of expected plot beats left me feeling like I was waiting out the clock until the inevitable, obligatory climactic final game. It's apparent that director Clint Eastwood was more interested in expressing the passion of the fans, highlighting the way a common interest can bring opposing parties together. That's fine and all, but if we don't experience that passion ourselves, we're no more than emotionless observers of other people's enjoyment. Equally problematic is the innate awkwardness of trying to depict a nation that's slowly being united, as it forces the movie to introduce numerous non-characters exclusively so it can rush them through their bland two-point arcs. It's the sort of problem you can forgive because there aren't a whole of other options available, but that justification doesn't make those scenes any more cinematically rewarding. The movie does have a saving grace though, and that's Morgan Freeman. With his portrayal of Nelson Mandela, Freeman lends a gravitas that helps maintain the illusion of substance, even as the film struggles to adequately explore the complexities of a post-apartheid world. He carries the movie.
Available on Blu-ray? Yes.
Notable Extras: DVD – A Matt Damon Plays Rugby featurette. Blu-ray – Includes everything on the DVD, as well as additional featurettes ("Vision, Courage and Honor: Clint Eastwood and the Power of a True Story", "Mandela Meets Morgan", "The Eastwood Factor"), and a digital copy of the film.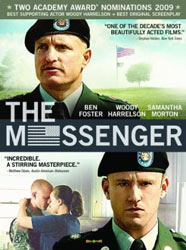 THE MESSENGER
Nobody—and I mean nobody—can convey intensity quite like Ben Foster. His performance, backed by the equally capable Woody Harrelson, makes The Messenger an immediately watchable and ultimately penetrating viewing experience. Where most movies can barely handle the task of creating a single truly believable character, this film manages to bring authenticity to all of them—even those that have less than five minutes of screen time. The movie contains no combat, or any war scenes at all. It is all about what happens afterward, when soldiers are tasked with informing the families of the deceased of what happened to their loved ones. As this film clearly demonstrates though, you don't need battle sequences to achieve a constant state of heightened drama. It is perhaps even more intense than last year's supreme war actioner The Hurt Locker, and certainly more meaningful. It may not be a movie you're likely to return to for repeat viewings, but it deserves to be seen.
Available on Blu-ray? Yes.
Notable Extras: DVD & Blu-ray – Commentary with Ben Foster, Woody Harrelson, Oren Moverman, and Lawrence Inglee, "Notification": A documentary about U.S. Army Casualty Notification Officers and the families of fallen soldiers, "Going Home": Reflections from the set, "Variety" Screening Series Q&A, and the shooting script.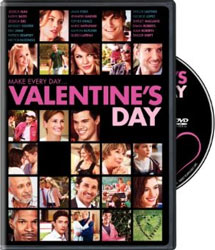 VALENTINE'S DAY
The movie Valentine's Day is a cheap, shameless marketing ploy designed to exploit women's emotional desires and strip men of their cash. It may not be a quality piece of cinema, but at least you can't say it isn't an honest representation of the holiday. I wonder though, what possible purpose it could serve to release the DVD now, in May. Are there really people out there who would buy this film for any reason other than its timely relevance to the day in question? On second thought, don't answer that.
Available on Blu-ray? Yes.
Notable Extras: DVD – Additional scenes. Blu-ray – Includes everything on the DVD, as well as a commentary by director Garry Marshall, Valentine's Day stories from the cast, The Garry factor, Jewel "Stay Here Forever" music video, a blooper reel, a copy of the DVD, and a digital copy.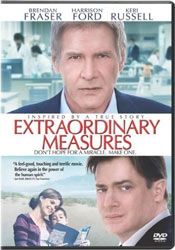 EXTRAORDINARY MEASURES
Either Extraordinary Measures is the most generic assembly of insufferable clichés to hit theaters in years, or it's a cunning parody of tear-jerker movie-of-the-week mawkishness that's been unfairly maligned by critics over being too convincing. The trailer really makes me want to believe the latter.
Available on Blu-ray? Yes.
Notable Extras: DVD & Blu-ray – 2 featurettes ("Meet John Crowley", "Extraordinary Measures: The Power to Overcome").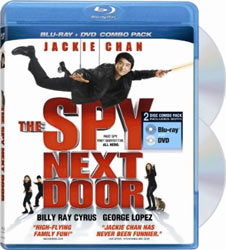 THE SPY NEXT DOOR
Movies like this make me sad. I don't like being sad. So, in order to make myself not sad, I imagine a scenario in which all the action stars of the world are engaged in an interminable competition in which there is only one goal: to star in the shittiest kid's film imaginable. Arnold Schwarzenegger remained the reigning champ for several years with Jingle All the Way, but was later overtaken by Vin Diesel in The Pacifier. Fearing he couldn't compete with such unparalleled levels of camera-mugging, Dwayne Johnson decided to hedge his bets with a double-dose of the disapproving glare, starring in both The Game Plan and The Tooth Fairy. Little did he know at the time, Jackie Chan was ready... waiting... plotting... Looking for the right moment to unleash... this. OK Jackie, you win. Please stop now.
Available on Blu-ray? Yes.
Notable Extras: DVD – 2 featurettes ("Jackie Chan: Stunt Master and Mentor", "Adventures in Acting with the Kids from The Spy Next Door"), and a blooper reel. Blu-ray – Includes everything on the DVD, as well as a copy of the DVD.
Other noteworthy DVD (and Blu-ray) releases this week...
The Girl on the Train – The New Daughter [DVD / Blu-ray] – Walkabout (Criterion Collection) [DVD / Blu-ray] – The Greatest American Hero (The Complete Series) – Defamation
Noteworthy Blu-ray-specific releases this week...

NOTES: Some deals may be in-store only. All deals are for DVDs unless otherwise noted.

$10 – Funny People
$13 – Blu-ray sale: The Boondock Saints, The Day After Tomorrow

$4.99 DVD or $14.99 Blu-ray – Men in Black, The Da Vinci Code
$6.99 – Shrek the Third
$7.99 – Alien vs. Predator
$9.99 – Pirates of the Caribbean: At World's End
$9.99 DVD or $14.99 Blu-ray – The Incredible Hulk, Spider-Man 3
$17.99 – Friday Night Lights (Season 3)
$19.99 – Fringe (Season 1), The Big Bang Theory (Season 2)
$24.99 – How I Met Your Mother (Season 4), Rescue Me (Season 5, Volume 2)
$9.99 – Blu-ray sale: Traitor, Ghost Rider, Coming to America
$12.99 – Blu-ray sale: Burn After Reading, Do the Right Thing, U-571
$13.99 – Blu-ray sale: The Dark Knight, Watchmen (Director's Cut), The Matrix, Gran Torino, Heat, 300
$14.99 – Blu-ray sale: The Fast and the Furious, 2 Fast 2 Furious, The Fast and the Furious: Tokyo Drift

$7.99 – Blu-ray sale: Drag Me to Hell, Coraline, Friday Night Lights, Leon: The Professional, Jarhead, The Fifth Element, Knowing, Hancock, Black Hawk Down, The Last Starfighter, Knocked Up, Forgetting Sarah Marshall, Walk Hard, The Replacement Killers, 21, I Now Pronounce You Chuck and Larry