Eddie Murphy Writing Third Nutty Professor; Doesn't Know What's Up With Beverly Hills Cop IV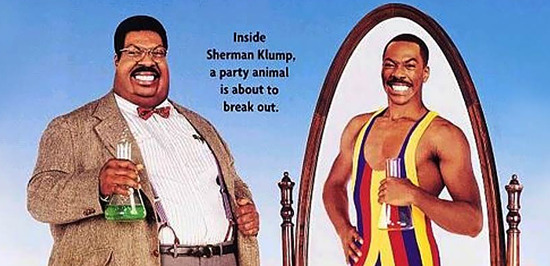 Do you want to see Eddie Murphy get back in his fat suit from The Nutty Professor? If so, he's writing a movie just for you. Murphy says he's working on the script for a third film in the series that was last seen on screens ten years ago. And what about Beverly Hills Cop IV, another sequel that we just don't need? (Barring the very unlikely chance it would recapture the energy of the first film.) Murphy doesn't seem very confident about that one. So we're 1 for 2 with Murphy today.
At the premiere for Shrek Forever After, Access Hollywood caught up to Murphy, who said he's been developing story ideas for another Nutty Professor film. How good are these ideas? How much enthusiasm does Murphy have for a third film?
"We kind of wrote something that might be kind of funny," he said. Sadly, that describes all too much of Murphy's comedy output of the last decade-plus. How I'd love to see him come back with something sharp and bitingly hilarious. Instead we might just get more squishy Klumps. Note that this isn't an official studio hire or a green light, or anything like that, so the movie isn't yet on the near horizon.
And then, about Beverly Hills Cop IV, Murphy says, "I don't know, they've been developing that Beverly Hills Cop [sequel] for years and years and years...I don't know what 's going on with that."
Brett Ratner has been attached to Beverly Hills Cop IV for quite a while, and Collider talked to him last week. Asked about a number of projects on his IMDB list (Harbinger, Playboy and Beverly Hills Cop IV) Ratner said, "Don't believe that." The follow-up question, sadly, wasn't "don't believe what, exactly?" but instead requested a status update on Cop IV. Will the movie happen? We get a non-answer:
Who knows? I never would do a movie like Rush Hour, except Beverly Hills Cop, which is the next level, with Eddie Murphy, who influenced me to do Rush Hour.