Cannes: Tim Burton, XpanD's Universal 3D Glasses, Woody Allen's You Will Meet A Tall Dark Stranger, Alejandro González Iñárritu's Biutiful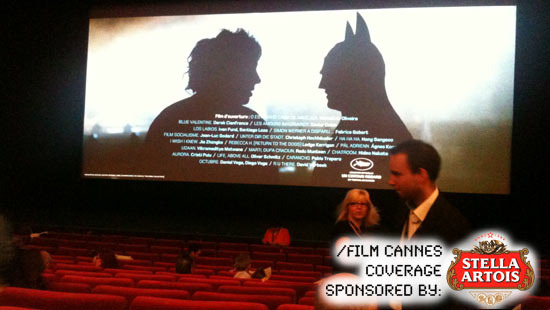 It's been a couple days since my last long Cannes update. Once the first weekend hit, things got really crazy at the festival. It is becoming clearer to me that this year's theme at Cannes is about death, dying, mortality and legacy. In my last Cannes blog, I wrote about Mike Leigh's new film Another Year, which is essentially a character piece which tackles all of the above issues. I have since seen a couple moe films which tackle these issues head on.
But before I get to my reviews, you're probably wondering why Batman is on the big screen at Cannes..
Tim Burton is the president of the Cannes jury this year. Burton was a member of the Cannes jury in 1997 and on the short film jury in 2006. To celebrate Burton, Cannes has decorated some of the festival theaters with Burton's art. Here are some photos of Burton's concept artwork on display in the theater lobby.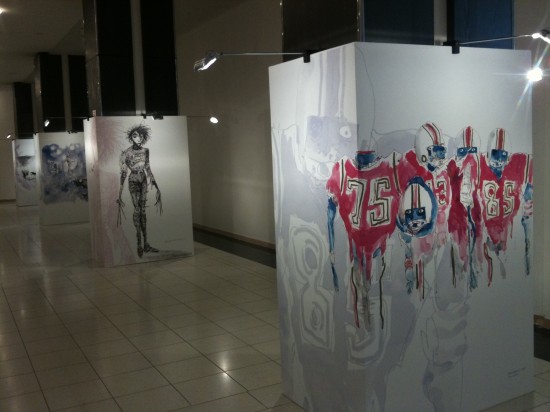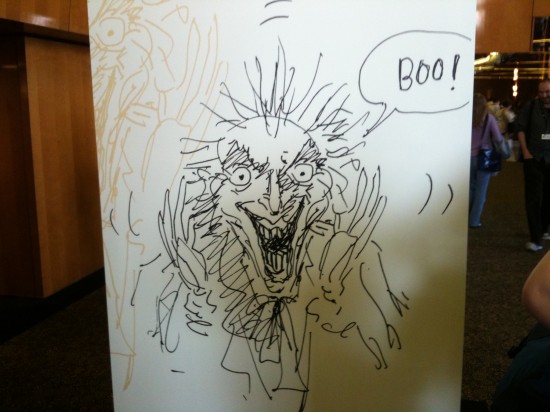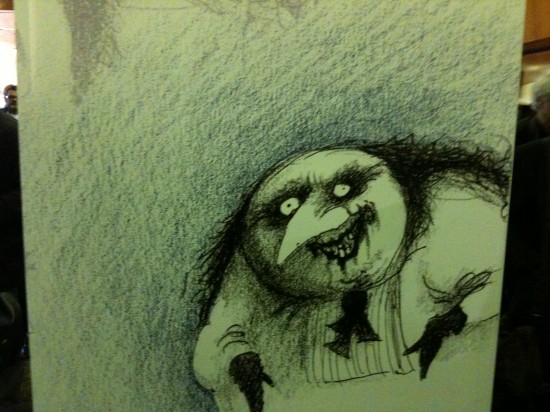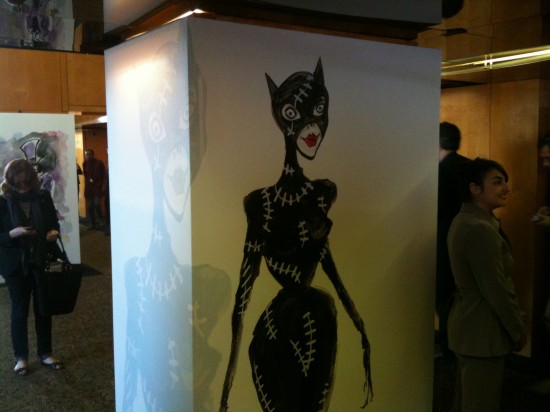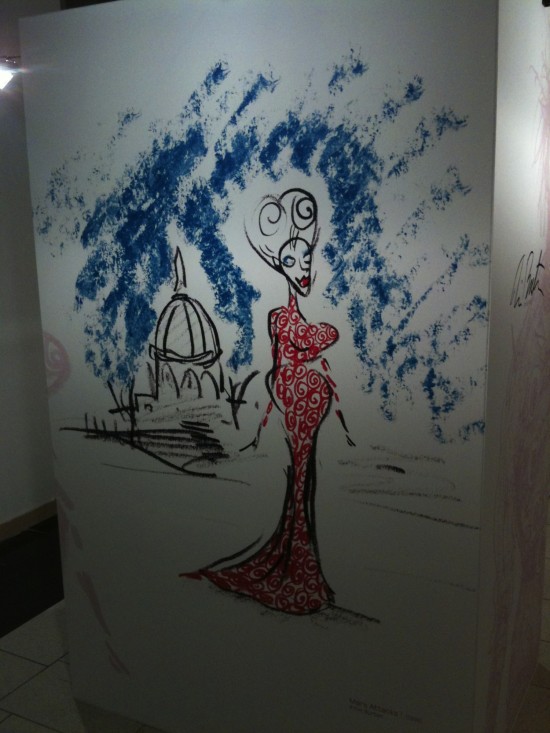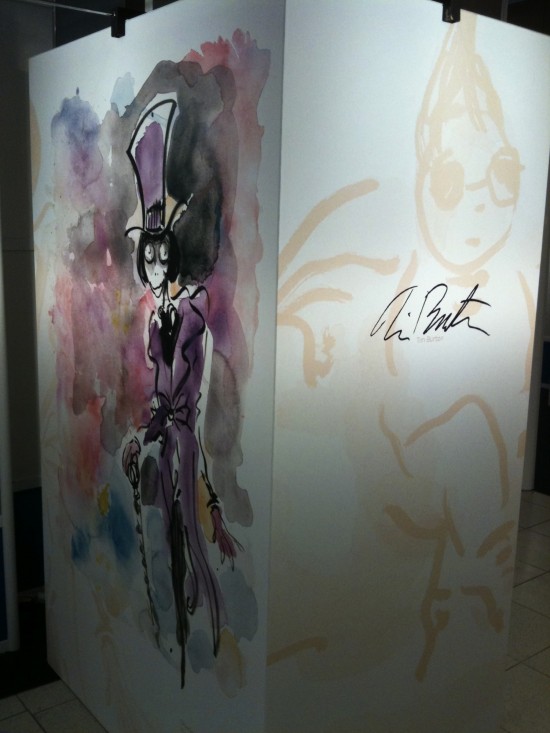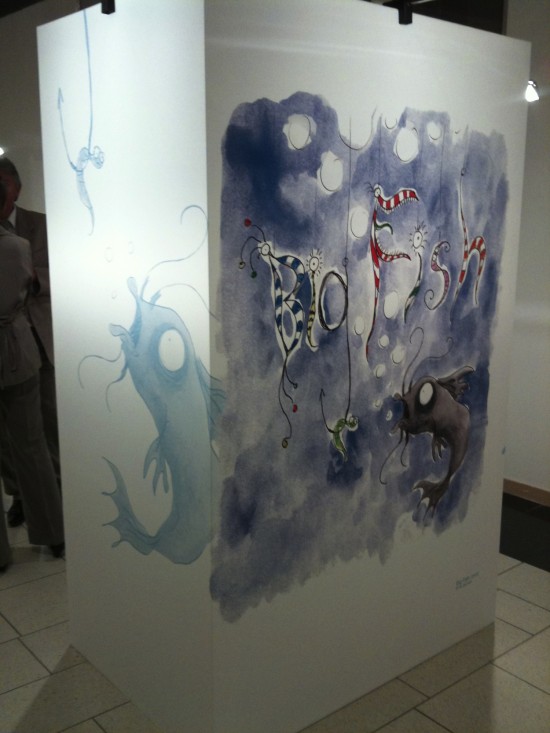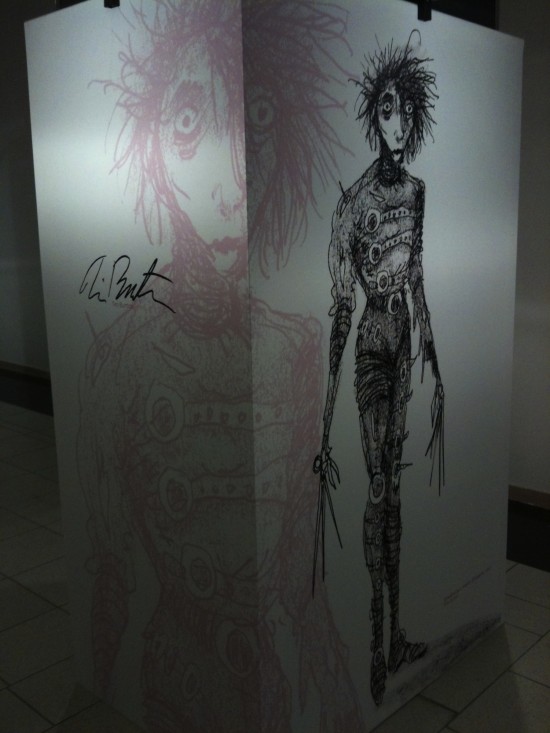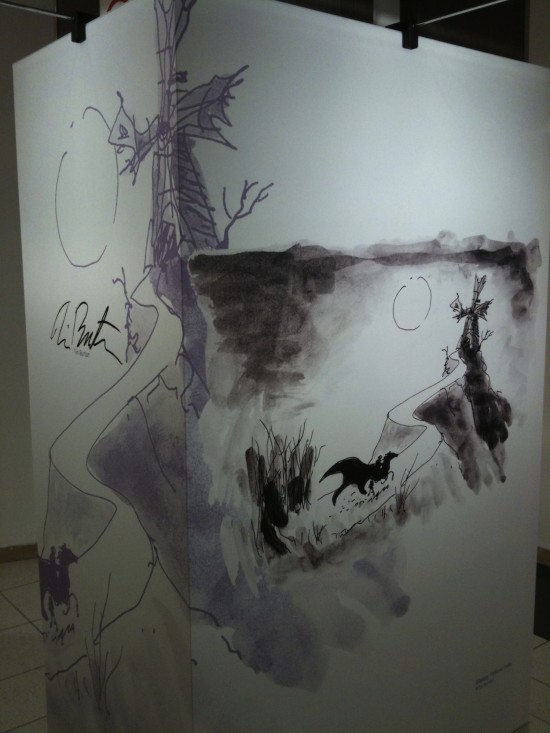 And of course, the very cool Batman behind the scenes production photo shows up on screen while the theater fills for films in the Un Certain Regard category. The photo is also on display near the door to the theater.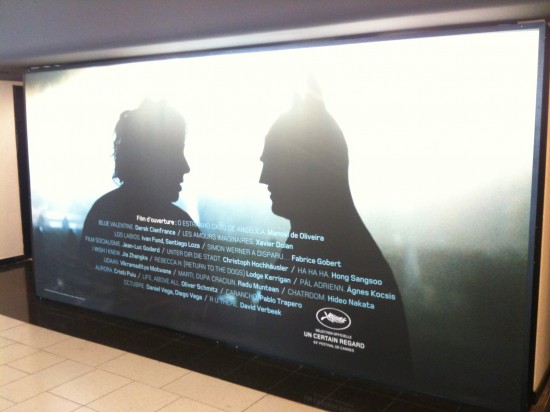 I should also mention that I attended a press conference for XpanD 3D. The company announced a new line of 3D glasses which could be universally used across all active 3D displays. This means it will work with any of the 3D technologies that use an active shutter in the glasses. This includes most of the new home 3D technologies and XPand which is in some of the US theaters like the Arclight theaters.
Unfortunately in the United States,Real D, Dolby and IMAX make up most of the 3D options, and the glasses will not work with these systems. But overseas Xpand holds the majority of the 3D marketshare, and these new glasses will allow for fashionable customization to give moviegoers their own personal 3D glasses.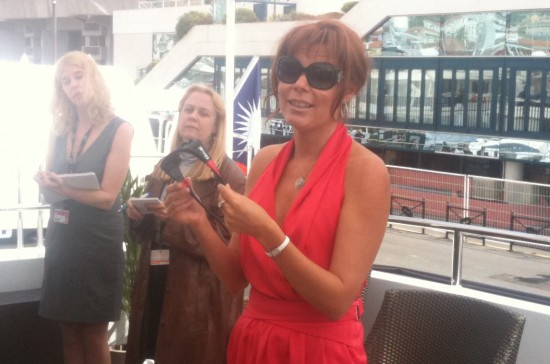 The press conference was on a yacht, here are some photos:
But enough of Burton, yachts, and 3D glasses... on to the reviews.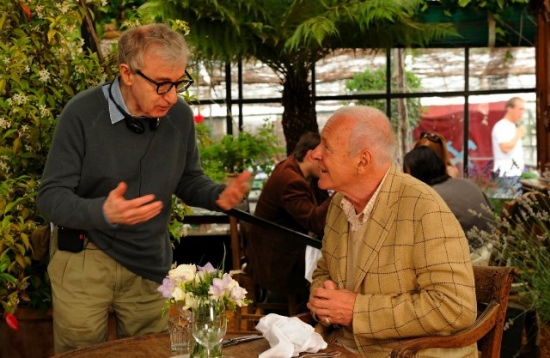 Woody Allen's new film You Will Meet a Tall Dark Stranger is an ensemble black comedy about adultery and plagiarism. The story follows Helena (Gemma Jones), an older woman who tries and fails to commit suicide after her husband of many years (Anthony Hopkins) leaves her for a much younger woman. Her daughter tries to make things better, referring her to a psychic friend who might say all the right things to get Helena in a more positive frame of mind. The title of the film comes from that fact that the psychic tells her that se will meet a tall dark stranger.
Helena's daughter Sally (Naomi Watts) is forced to get a job as an assistant at an art gallery as her husband Roy (Josh Brolin) is a failed novelist one-hit-wonder who refuses to get a real job. Roy tries to finish his latest novel, but is distracted by a woman in red (Freida Pinto) outside his window who plays music in the apartment across the street. But Roy isn't the only one becoming distracted, Sally is starting to get a little to close to her boss at the art gallery (Antonio Banderas). And as you might suspect, all of this is just the beginning.
The characters are put in a series of situations which force them to choose between morality and lust/legacy. The grass is always greener on the other side of the street, and the characters always want what they don't have. At the end of the day, none of the characters are particularly relatable or "good" in any sense of the word. Even the mother, who is the most sympathetic of the bunch, is reduced to making moronic choices.
The choice of setting this story in an international city seems a bit arbitrary. While the film is shot in London, it could have easily been set in New York City. It is missing the flavor and national context of the region which is evident in Vicky Cristina Barcelona.
I'm more of a fan of Allen's earlier more neurotic films where he plays himself on screen instead of having Larry David do the pinch hitting. This film has a few good laughs, some mildly interesting stoylines, but lacks the care and insight of the filmmaker's past work.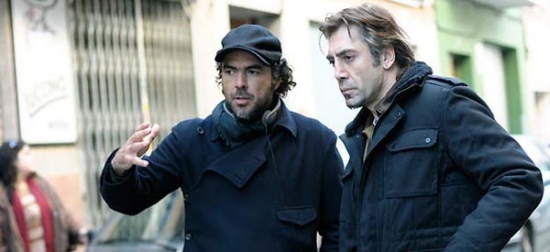 I've been a huge fan of Alejandro González Iñárritu's films thus far. Amores Perros is like the Mexican Pulp Fiction — if you haven't seen it yet, stop what you're doing now and add it to your netflix queue. I even like 21 Grams and Babel more than most. I've always been attracted to ensemble stories that intertwine and intersect. I love filmmakers like Robert Altman, Paul Thomas Anderson, Quentin Tarantino and Iñárritu who have used this style of storytelling on a regular basis.
My big worry going into Iñárritu's latest film Biutiful is that it was not written by Guillermo Arriaga, who the filmmaker collaborated with on his last three films. And gone is the well mapped-out ensemble stories and fractured timelines that I've loved.
Biutiful is a story about a man involved in a bunch of illegal dealings who learns that he might be dying of Cancer. He is a single father of two children, dealing with issues of mortality and legacy.  His former wife is a druggie who is not responsible enough to take care of herself, nevermind the children.
How will his children live on when he must leave this world? And what does this mean for him? How does a man come to grips with the fact that his time is up. What does he do? How does one make things right. These are some of the many questions explored in Biutiful.
Javier Bardem's performance is the main focus of this film — it is masterful, sure to be the subject of the end of the year award nominations. The film is worth seeing (Bardem is worth the $10 or $15 ticket price alone), but the film is a definite departre from the Arriaga-crafted tales. The rest of the movie lacks the same focus shown in Bardem's choices. Iñárritu's style is confusing at times, and the story is spare and rather depressing. But what do you expect from a film of this subject matter?