Tony And Ridley Scott Developing Their Own 20,000 Leagues Under The Sea Movie For Fox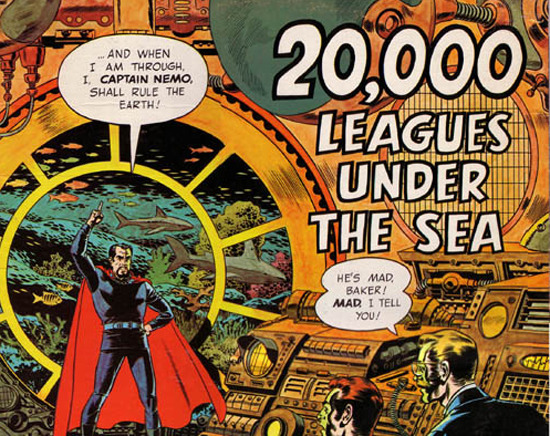 Now there are two 20,000 Leagues Under the Sea films. Just over the weekend we heard that Disney has been quietly re-developing the film version that was sunk last year. Instead of McG directing, this one may have David Fincher at the helm.
Here's where it gets complicated. Fox also has an adaptation of Jules Verne's classic story in the works, and has Ridley and Tony Scott developing the film through their company, Scott Free.
THR reports that the man currently being targeted to direct is Timur Bekmambetov, but that deal isn't set. He's This script is by Travis Beacham (Clash of the Titans) and the story is that Beacham approached Scott Free with his take on the story, and the company then took the project to Fox.
The fact that Beacham has a script together puts this in front of Disney's version, which doesn't yet have a completed script. (Scott Z. Burns is reportedly finalizing his deal to write Disney's take.)
THR says this version is set in the future, and is an overt sci-fi take, which reflects the fact that the novel was sci-fi when originally published. That being the case, the general structure of Beacham's script reportedly follows that of the book.
20,000 Leagues Under the Sea is in the public domain, so there is no rights restriction that compels one studio to give way to another. Now if only there was some way that the quality of each take could determine which made it to screens first. Instead, it's just a race. Can't say I'm wild about the idea of Bekmambetov directing this one. I'd much rather see his version of Moby Dick, because it sounded so insane. But he's been taking many offers to produce and direct films since Wanted hit, and so far has yet to commit to many. So he could end up passing on this, too.