Casting Notes: Paul Dano And Clancy Brown In Cowboys & Aliens; Tucci And Gugino In Margin Call; Hopkins And Hoffman In The Song Of Names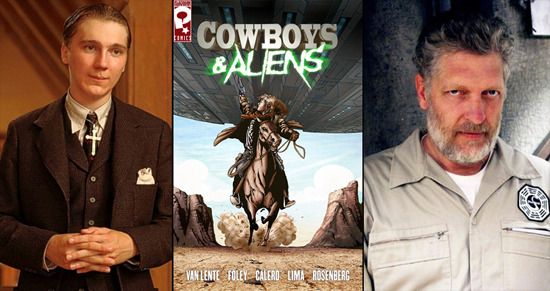 The Cowboys & Aliens cast keeps getting better and better. Starting with Daniel Craig and Sam Rockwell, then there was the addition of Harrison Ford (I'm praying for a career revival here) with Olivia Wilde and Noah Ringer.
Now director Jon Favreau will also have Paul Dano and Clancy Brown to work with, and Keith Carradine rounds out the cast as the town sheriff. That's a killer lineup, and the film has gone from seeming like a longshot success to promising just the sort of throwaway fun that a summer movie should be. [Deadline]
After the break, Stanley Tucci and Carla Gugino join Margin Call and Anthony Hopkins and Dustin Hoffman make a high-caliber pair for Vadim Perelman's new movie.
Just a few days ago we heard about Margin Call, which has Stanley Tucci and Zachary Quinto set to star, and is being pre-sold at Cannes. (It "tracks eight people at a prominent investment bank in a tumultuous 24-hour period during the early stages of the financial crisis" and looks on as they try to come to terms with the impending financial disaster.)
Now Carla Gugino and Stanley Tucci are signing on, too. Or, at least, they're attached for now. Let's hope that the money comes together quickly enough that this cast sticks around and doesn't have to move on to other films. Quinto, at least, will probably be part of the cast regardless, as he's producing. [THR]
Finally, there's The Song of Names, which is the new film from House of Sand and Fog director Vadim Perelman. In the past, Perelman's films have been a really tough sell for me; can't say I'm a fan at all. But The Constant Gardener screenwriter Jeffrey Caine is adapting Norman Lebrecht's novel, and that might turn out well. Plus, there's the Hopkins/Hoffman pairing, which is pretty promising. [THR]
Here's the synopsis for the novel:
Dovidl Rappoport is a violin prodigy and a Polish refugee whose family perished in the Holocaust. He now lives with a wealthy Jewish family in London and befriends their socially awkward son, Martin Simmonds. Martin's father, a musical impresario, trains Dovidl for the biggest debut on the London stage, and Martin is commandeered to act as caretaker. The two become close friends, forming a sybaritic relationship. Dovidl, however, slowly begins to slink into London's seamier nightlife and eventually disappears on the day of his much-anticipated debut, wreaking havoc on the family and its business. Forty years later, Martin discovers a trace of the vanished prodigy and eventually ekes out a plan to avenge the betrayal all those years ago. Lebrecht's story delves into the horrors of the Holocaust and the Blitz, as well as the quiet communities of Hasidic Judaism that developed in Britain after the flight of so many refugees.