Dario Argento To Direct Dracula 3D; Asia Argento To Direct A Hunting Gun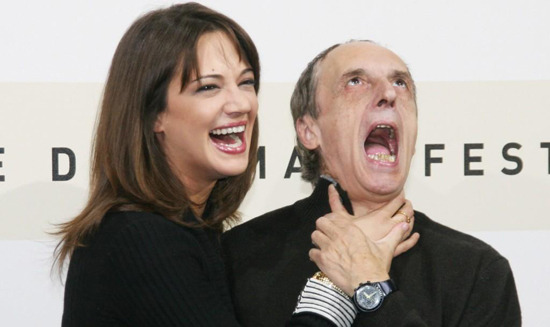 The Argento family is having a busy week. From the Cannes marketplace, there is news that Dario Argento will make a new, 'faithful' take on Dracula, in 3D. And then his daughter Asia Argento, who had sworn off screenwriting after The Heart is Deceitful Above All Things, is back with a new film called A Hunting Gun, which she is writing with husband Michele Civetta and Japanese author Yasushi Inoue.
Dracula first up, but we don't have a lot of details. STYD's Alan Jones said via Twitter earlier today, "Just announced, Dario Argento's Dracula in 3D, filming in Italy in January, period setting." Argento is writing as well as directing. Further info from STYD says the sales material for the film describes it as "a faithful translation of the Bram Stoker novel." Well, it can't help but be more faithful than Bram Stoker's Dracula, right? Shock's report also has some sales art you can check out, though it's nothing special.
And then there's Asia Argento, who last released The Heart is Deceitful Above All Things, in 2004. That was based on the memoir by J.T. Leroy, which spun a tale of abuse, drug addiction, seduction via pre-teen cross dressing and further horrifying family dynamics.
But the book turned out to be a con, written by Laura Albert with Savannah Koop playing the male Leroy in public appearances. That wasn't exposed until after the film was released. While you might find it difficult to believe that Argento didn't know that Leroy was phony, she claims that the exposure of the truth made it impossible for her to write another film.
(Doesn't help that the film is rather terrible, though it boasts an early turn from Jeremy Renner.)
But now she's back. Good thing, says I, as Asia is an energetic provocateur, even if I haven't liked a film she's directed. The print edition of Production Weekly, via the transcription-mad The Playlist, says that A Hunting Gun will be about:
Josuke, the owner of the hunting gun pursues a longtime love affair with his wife Esther's older cousin Sylvia. The story is told from the viewpoints of three women who are closest to Josuke: Sylvia, his beautiful and secretive mistress, Susy, her disillusioned daughter and Josuke's conflicted wife Esther. The characters' hearts hold deep secrets and the more each person is true to themselves, the further they retreat into their own worlds. A deeply nuanced and evocative love story with a fatalistic twist.
Love, seduction, secrets and the threat of violence? Yeah, that sounds like Asia Argento. She's been good as an actress in a few films, and I'd love her to direct a great movie. Will this be it? After the semi-debacle of the J.T. Leroy adaptation, she's got reason to kick ass this time.
That leads me back to Dario for a moment. I can't tell you how much I'd love to be able to get behind a new film of his. But what was the last one that was really worth a damn? (I haven't had a chance to see Giallo yet.) Maybe The Card Player? Before that, you might have to go back to Opera, in '87. Mother of Tears was laughable, even though it had a few entertaining moments. Most of it looked like outtakes from Ratt and Motley Crue videos from 1984. So I'd love him to pull out one last killer effort. Without knowing any more about this one, I'll hold out some slim hope for Dracula.