Cannes: The Film Market, Monsters, The Housemaid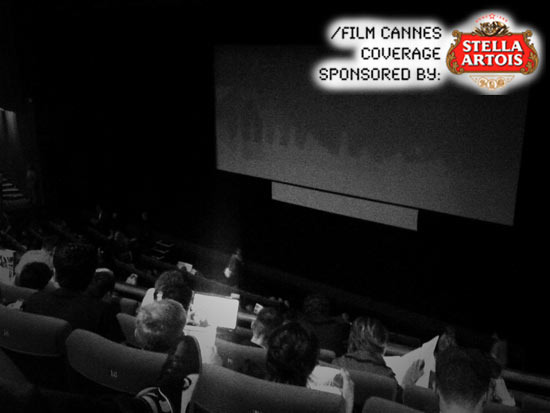 The Cannes Film Festival is more than just a festival. They also have a large film market where distributors try to market and sell their films to international territories. I started off my day on Thursday by attending a buyers screening. At Cannes, press are allowed admission to some of the buyers screenings, but only at the last minute with space permitting.
The 75 seat theater was filled for Gareth Edwards' Monsters, an independent sci-fi thriller which gained some high praise at SXSW. We got some of the last remaining seats. I went in with very low expectations, and was blown away.
So what is the pitch? Here is the official plot synopsis:
Six years ago NASA discovered the possibility of alien life within our solar system. A probe was launched to collect samples, but crashed upon re-entry over Central America. Soon after, new life form began to appear and half of Mexico was quarantined as an INFECTED ZONE. Today, the American and Mexican military still struggle to contain "the creatures"...... Our story begins when a US journalist agrees to escort a shaken tourist through the infected zone in Mexico to the safety of the US border.
The movie is like Lost in Translation, but set in Mexico, with gigantic alien monsters. The film is also sure to draw comparisons to District 9, and shows shades of Jurassic Park. The film has a reported production budget of $15,000 but looks 700 times more expensive.
But the film really isn't about big budget effects, or jump scares, or the usual independent horror cliches. Instead the movie focuses on the two characters at the center of the story, and their experiences in this new world of terror. What sets it aside from most modern "horror" films is that you actually care about the characters, so that when a dangerous situation looms, the usually blood, guts and explosions aren't necessary.
Another one of the reasons why this film is outstanding is that it creates a totally believable world where alien creatures have infected a large region of Mexico.
Watching the movie you will believe that the world that extends into the background and off screen exists. There are so many time when I'm watching movies that you can tell where a soundstage ends and the computer extension begins. They throw a bunch of signs and set dressing in front of the camera, and you can feel that everything is back to normal only a few feet off camera. But this film, like Children of Men, presents a believable world.
I hope that you get a chance to see this film, and I hope that I'm not over-hyping it. I was taken by surprise and enjoyed it much more than a film by the great Ridley Scott the day before — if that says anything.
The Market
After the screening, I decided to wander around the film market with Alex from FirstShowing, seeing if we could spot any interesting projects in development. The market is huge. Imagine a large showfloor, like a mini-comic-con, where every booth is plastered with posters for movies you've never heard of and will likely never ever come across. Films range from direct to DVD horror movies that look to appeal to the lowest of the lowest possible denominator, to no-so-well animated computer animated movies geared to appeal to everyone, to movies touting stars and floating heads.
The mockbuster direct to dvd studio The Asylum has a booth there, and so does Millennium Pictures (which is where we spotted the Rambo poster we published yesterday). Here is a very short video I recorded while walking through a small section of the market. You can get an idea of the type of films on display:
Also:
To give you more of an idea, one of the films being heavily marketed at the film market is "Juan of the Dead" which at first glance seems like a complete ripoff of Edgar Wright's Shuan of the Dead, but is actually a Cuban-Spanish-Mexican co-production with a story set on Fidel's island during a zombie outbreak.
Later in the evening I watched a press screening of Korean director Im Sang-soo's film The Housemaid, a remake of a 1960 movie of the same name. The plot revolves around a rich Korean father and his pregnant wife (who is expecting twins) who hire a new housemaid to clean, serve meals and take care of their daughter. The film is a romantic thriller which involves the father's affair with the housemaid behind his wife's back. As you might assume, the wife will likely eventually find out, and who knows what is bound to happen when that situation blows up. Unfortunately The Housemaid is half a good movie, a great set-up which falls off track in the last 30 to 45 minutes.
Here are some more photos from my day around Cannes:
The Croisette in panorama:
Another view:
A traditional shot:
Photographers have already stakes out their spots in the morning for that evening's premiere. What you're looking at is a shot of the step ladders they stand on to get photos of stars on the red carpet:
And a man making a creppe at one of the many stands along the water: