Paramount Recalls Saving Private Ryan Blu-Ray Discs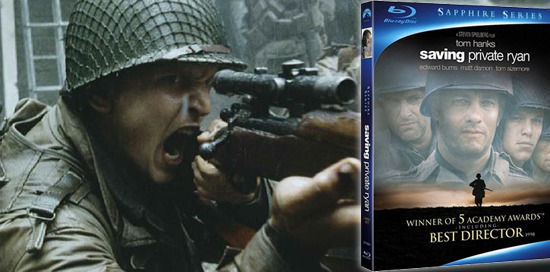 Were you excited last week to finally get Saving Private Ryan on Blu-ray? Were you less excited to see that the disc seemed to be exhibiting an audio sync problem, causing the sound of shells and explosions to be heard before they actually hit? Well, the problem wasn't your player. It's the disc, and Paramount is now recalling the entire first-run batch.
This supposedly affects every disc, so if you have Saving Private Ryan on Blu-ray right now, you've got a bad one. The good news is that Paramount and Technicolor are acting quickly to fix the problem. New discs will be on shelves next week, Tuesday, May 18. They will have a yellow UPC sticker on the back, denoting their status as corrected discs.
To get your replacement, you can either return it to your retail point of purchase, or call a toll-free number. In the U.S. and Canada, call 888-370-8621. In the U.K., call 08000-852-613
Here's the press release from Paramount:
PARAMOUNT HOME ENTERTAINMENT RECALLING SAVING PRIVATE RYAN SAPPHIRE SERIES BLU-RAY DISCS
Replacement Product to be Available at Retail by Tuesday, May 18
HOLLYWOOD, CA (May 12, 2010) – Paramount Home Entertainment today announced that it is recalling the Sapphire Series Blu-ray edition of Saving Private Ryan recently released in North America, the United Kingdom and the Benelux countries due to an audio synch error that occurred during Technicolor's authoring process. Although Technicolor employs comprehensive quality control measures, in this instance the issue was not detected prior to replication.
"Technicolor has been a valuable partner to Paramount Home Entertainment, and both Paramount and Technicolor are committed to providing the highest quality product to consumers," said Dennis Maguire, President, Paramount Pictures Home Entertainment Worldwide. "Our Sapphire Series was created to present our greatest films with the finest picture and sound quality available. Saving Private Ryan is a five time Academy Award® winning film including Best Director from one of America's most acclaimed filmmakers so we are recalling this edition to ensure that every Blu-ray disc honors Steven Spielberg's vision."
Technicolor has set up the following toll-free numbers for consumers who have already purchased the Saving Private Ryan Sapphire Series Blu-ray, which provides details on how they can receive a replacement copy — US and Canada: 888-370-8621, UK: 08000-852-613. Consumers can also return the Blu-ray to the stores where they purchased the product to receive a replacement. Technicolor expects to have replacement discs available at retail no later than Tuesday, May 18.
[The Digital Bits, via Cinematical]