Timothy Olyphant Replaces Sharlto Copley In I Am Number Four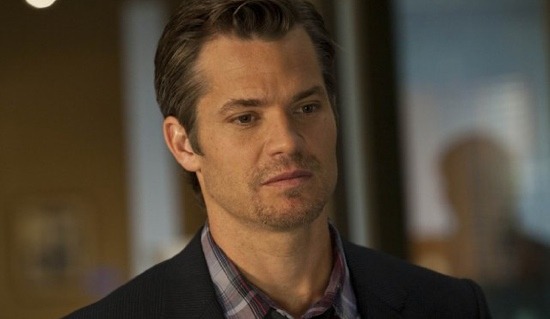 We may receive a commission on purchases made from links.
A bit of bad news: District 9 star Sharlto Copley is leaving Michael Bay/Steven Spielberg-produced D.J. Caruso-directed adaptation of James Frey and Jobie Hughes's teen sci-fi alien book I Am Number Four. Variety reports that he is being replaced by Timothy Olyphant (Live Free or Die Hard, Hitman, Justified). Copley had to bow out due to "scheduling conflicts with his upcoming press obligations for Fox's The A-Team."
Here's the plot of the novel:
I AM NUMBER FOUR focuses on the fate of nine gifted children and their guardians, the sole survivors of a bitter war on their home planet called Lorien, who have settled on Earth under the protection of a charm that means their enemies can only kill them in numeric order. Three of the nine are dead; the novel's narrator is number Four. The nine children and their guardians evacuate to earth and the protagonist, a Lorien boy named John Smith, hides in Paradise, Ohio, as a human and tries to evade his predators.
The film stars Alex Pettyfer (Alex Rider: Operation Stormbreaker, Beastly) who is set to play the lead character – Four, Teresa Palmer, who will play Number Six, Olyphant will be playing the man who "hailed from the alien world's serving class but now is the title character's adult guardian and mentor," and Glee star Dianna Agron who plays a character whs initially dating a jock, but she falls for Four and he confides to her the truth of his predicament. Kevin Durand (Lost, Dark Angel, Robin Hood) will play the commander of the aliens who are hunting the survivors down on Earth.
The screenplay adaptation was written by Smallville creators Al Gough and Miles Millar, which kind of makes sense if you think about it (teenage aliens that fall from space to earth?). Caruso is of course the director responsible for Taking Lives, The Salton Sea, Two for the Money and more recently, Disturbia and Eagle Eye. Bay has previously been developing the project as a potential directing gig.
The first book of the planned four six book series written by A Million Little Pieces author James Frey and Jobie Hughes, is set to hit book store shelves on August 17th, 2010. You can now preorder the 352-page book on Amazon for around $11-$12. The project was fast tracked after the release and success of District 9. Dreamworks has set a February 18th 2011 release date for the movie.