Casting Notes: Spacey And Quinto In Margin Call; Channing Tatum In Cheaters; Jessica Biel In Vivaldi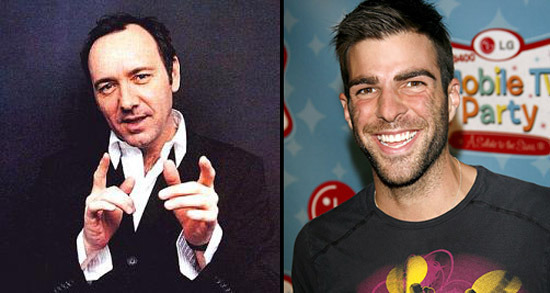 As Cannes kicks into gear we might start hearing about a few new films that have been assembled enough to scour for distribution deals before production. One such film is Judge Dredd, which we covered last night. Another is Margin Call, from writer/director J.C. Chandor. The film has lined up Kevin Spacey and Zachary Quinto to star in a topical tale about banking malfeasance. The story "tracks eight people at a prominent investment bank in a tumultuous 24-hour period during the early stages of the financial crisis" and looks on as they try to come to terms with the impending financial disaster. [Deadline]
After the break, Ron Howard's Cheaters gets new faces, and Jessica Biel romances Vivaldi.
Ron Howard is preparing to direct Cheaters, in which Vince Vaughn will play a guy who discovers that the wife (Winona Ryder) of his best friend (Kevin James) is cheating. Now the guy she's sleeping with has been cast: Channing Tatum will play Ryder's "tattooed and pierced lover." Jennifer Connelly is also still on board as Vaughn's wife; more than anything else I'm interested in seeing Connelly do a new comedy role. [THR]
And Jessica Biel and Luke Evans are in the final stages of dealmaking to become the primary cast members in period romance Vivaldi. The film will be directed by Patricia Riggen (Under the Same Moon) and was written by Kevin Lund and T.J. Scott.
Vivaldi follows "a forbidden romance that develops between composer, priest and violin virtuoso Antonio Vivaldi and his protege, singer Anna Tessieri Giro, leading him to write his enduring masterpiece The Four Seasons." There could be some scholarly dismissal of this one, as Vivialdi denied any relationship with Giro, and his take has evidently been accepted by academics. But why let that interfere with seeing the composer get it on with Jessica Biel? [THR]