Kick-Ass Screenwriter Jane Goldman Rewriting X-Men: First Class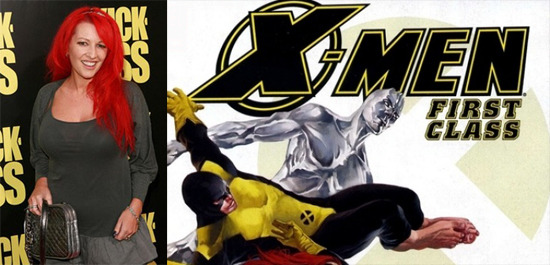 When Matthew Vaughn was announced as director of X-Men: First Class, you wouldn't have been errant in guessing that this news would quickly follow. Vaughn and Jane Goldman worked closely together on Stardust and Kick-Ass, so it was logical to guess that she might contribute to First Class as well. Indeed, we're now hearing that Goldman will work on the script for the X-Men prequel.
The news comes via Goldman's husband, Jonathan Ross, who said on Twitter, "The wife is away writing X Men 4," which he later followed with "Also, for those who need to know, my wife IS currently writing X men First Class. It's just referred to as X men 4 around the house..."
While Gossip Girl creator Josh Schwartz was once set to write and direct, this version of X-Men: First Class was kicked into action by a Jamie Moss script based on a treatment by Bryan Singer. Then Zack Stentz and Ashley Edward Miller came on to write. That pair was just recently talking about working on the script, so we don't know if Goldman is working with them, or if she and Vaughn are doing their own rewrite.
For those who loved Kick-Ass, this will come as great news. Even if you didn't love it (like me) there's the work that Goldman did on Stardust, which I did quite like, and her work with Vaughn on the script for The Debt, which is a significant change-up from their other pictures. (That's the "Mossad agents tracking down Nazi criminal" picture directed by John Madden that is currently awaiting release.)
Once again, here's the early plot synopsis for First Class:
X-MEN: FIRST CLASS, following the classic Marvel mythology, charts the epic beginning of the X-Men saga.  Before Charles Xavier and Erik Lensherr took the names Professor X and Magneto, they were two young men discovering their powers for the first time. Before they were archenemies, they were closest of friends, working together, with other Mutants (some familiar, some new), to stop the greatest threat the world has ever known.