First Look: Chloe Moretz In Let Me In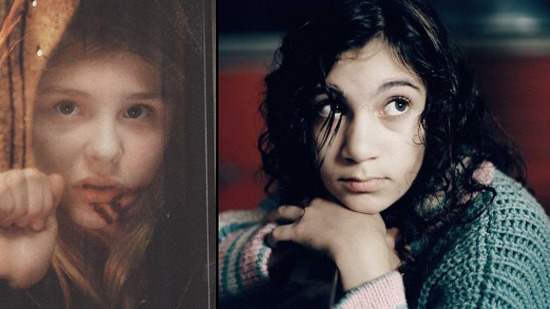 News of a remake of Swedish vampire film Let the Right One In generated a lot of heat, and no small amount of anger. (The remake was announced before the original had been properly released in the US.) But some of the bile dissolved when people got a chance to see Let Me In star Chloe Moretz in Kick-Ass. Hey, this kid's pretty good! Maybe this remake won't be so bad after all. So will this first look at Moretz as Abby, the 'not really a child' at the center of the film, sway opinions yet again?
Let the Right One In featured Lina Leandersson in the role of Eli, a seemingly young girl who moves into a new block of flats and befriends Oskar, a quiet 12-year old boy. In the original film, Leandersson had an eerie, unearthly quality that quickly tipped off her character's true nature, but never undermined it. Leandersson's severe, slightly odd look was perfect for the inhuman, disconnected and necessarily savage Eli.
Chloe Moretz, in this photo, just looks cute. Which doesn't have to be a bad thing. We know that director Matt Reeves has gone back to the source novel and is presenting a slightly different take. His renamed characters (Abby and Owen, with the latter played by The Road's Kodi Smit-McPhee) may express themselves differently...they may be quite a bit different, in some ways.
Which is well and good, so long as the movie is good. And without seeing Moretz walking and talking (and killing) as Abby, it's too early to create expectations for the film just from one photo. But is this what I was expecting to see when I'd imagined Hit Girl as the story's young vampire? Not quite. [Entertainment Weekly, via OhNoTheyDidn't]