Quentin Tarantino To Head Venice Film Fest Jury; Tree Of Life To Debut At The Fest?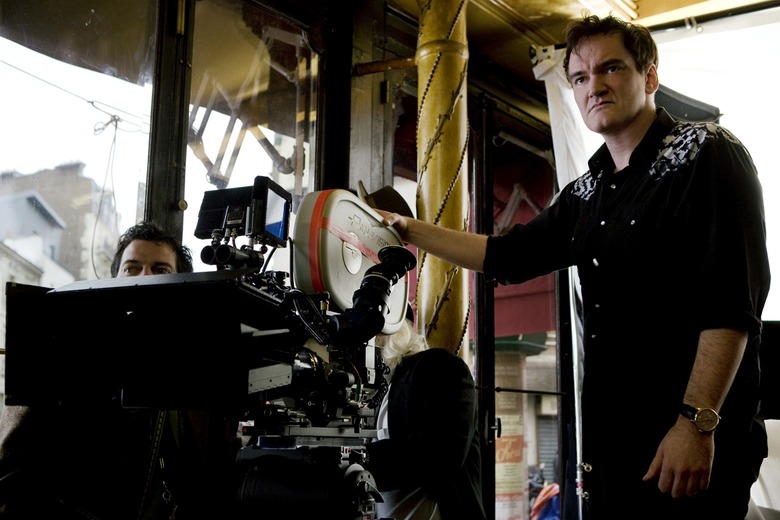 Quentin Tarantino has led the jury at Cannes, in 2004, but his experience at the Venice Film Festival has been limited to programming a couple of sidebars in '04 and '07. That changes this year, as the fest has named Tarantino head of the 2010 competition jury for the festival which will run from September 1-11. So what films is he likely to be judging?
Along with the news of the selection of Tarantino, Variety reports on a handful of films that are likely to appear on the schedule. They include:
Somewhere, directed by Sofia Coppola. Previously a Cannes hopeful, the film won't be seen this month in part because of Coppola's pregnancy, the film features Stephen Dorff as "a bad-boy A-List actor stumbling through a life of excess while living at Hollywood's legendary Chateau Marmont Hotel."Miral, directed by Julian Schnabel. His follow-up to his pair of 2007 films The Diving Bell and the Butterfly and Berlin, which stars Freida Pinto as "a refugee camp teacher in post-war Jerusalem."Potiche, directed by Francois Ozon. Catherine Denueve and Gerard Depardieu star in the film that adapts a play set in a 'bourgeois province' in 1977. Was possibly to appear at Cannes, but will now bow at Venice.Road to Nowhere, directed by Monte Hellman. His first feature in twenty years. It's a 'romantic thriller' with Dominique Swain, Shannyn Sossamon, Cliff De Young, and John Diehl in "the noirish tale of a young filmmaker who becomes enmeshed in a criminal scheme while making a movie on location." Hellman's segment of the omnibus horror film Trapped Ashes (2006) wasn't that great, but I'll be optimistic about a new feature from the guy that made Two-Lane Blacktop and Cockfighter.
But the big question is: will Apparition and Terrence Malick decide that Venice is the prime spot to debut Tree of Life? The film won't be at Cannes, so Venice seems like a very likely option. But imagine the shock and squeals of surprise if the film shows up in a surprise screening at Telluride instead. What's more valuable: the foreign press fawning over Brad Pitt and Sean Penn if they arrive in Venice, or the smaller pocket of critical appreciation that might follow a surprise Telluride bow? Probably the foreign press, but a Telluride debut would be appreciably ballsy.