New Tron Legacy Image; Space Paranoids Game Playable Online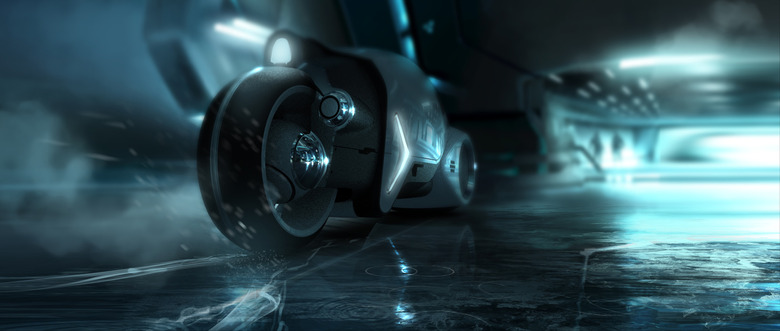 Still over six months to go until Tron Legacy is in theaters, but Disney continues to drop a steady trail of images and treats for Tron fans. There's a spiffy new lightcycle image (above; click for high-res) and, if you've got a few minutes to kill, a fully playable version of the game Space Paranoids, originally shown to visitors to Flynn's Arcade at Comic Con last summer. More details after the break.
The lightcycle images comes courtesy of marketing site HelloFlynn, via Blogomatic3000. I don't need to say much about this one; the detail is wonderful. Check out the high-res version. It's instant desktop wallpaper material if you're at all inclined to be into this film. HelloFlynn recreates the server console seen in Tron Legacy, and if you put in the code 888822039114 you'll get this image, and unlock some great concept art as well. 
Meanwhile, the site SpaceParanoidsOnline has gone fully live with a playable version of the game that Kevin Flynn created in Tron. It's the title that earned Encom a bagful of money after Ed Dillinger stole it and locked Flynn out of the company, and also provides the visual framework for a lot of the classic Tron vehicle concepts.
The game is actually fairly tough. It seems simple, as you're basically driving a tank and shooting down Recognizers. But the pace isn't as fast as you might be used to, in some ways, and those Recognizers will kick your ass. But there are likely secrets hidden throughout the game, because all the Tron marketing so far has been rife with codes and secrets. Good luck!