New Image From Pixar's Upcoming Short, Day & Night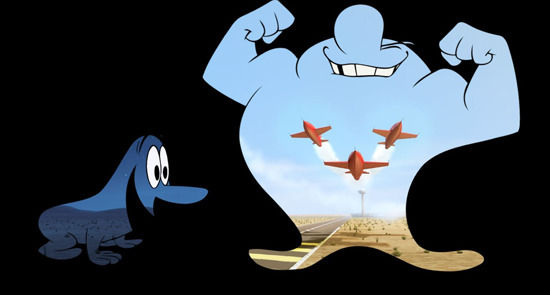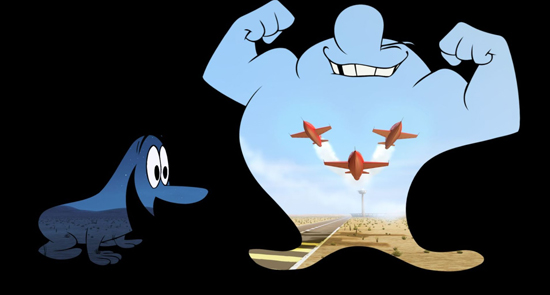 For the past couple months, we've been speculating about the nature of Day & Night, the new Pixar short film that will be attached to prints of Toy Story 3. We saw one still not long ago that made the film look like a 2D affair, with a real visual callback to some of the wackier 2D animated shorts of the '60s and early '70s.
But quotes from Pixar said the characters would be hand-drawn, with CGI images inside. The short was also said to be "unlike anything Pixar has produced before." Now there is a new image that reflects that, and makes the film look like a very interesting combination of 2D and 3D animation.
PixarTalk has the image, and as their post notes, it seems to reveal the way that the 2D characters Day and Night are frames for 3D rendered scenes. What does that mean, and how do they really interact? We do not know. Check out PixarTalk for a much larger version of the image, where you can better see a lot more detail.
Here's the official synopsis. The key word therein seems to be 'window,' which in conjunction with the new image, suggests that all the interaction between these two characters might take place via scenes played out within each of their outlines. Which would be very classic and very cool.
When Day, a sunny fellow, encounters Night, a stranger of distinctly darker moods, sparks fly! Day and Night are frightened and suspicious of each other at first, and quickly get off on the wrong foot. But as they discover each other's unique qualities–and come to realize that each of them offers a different window onto the same world–the friendship helps both to gain a new perspective.
Teddy Newton wrote and directed Day & Night, which was produced by Kevin Reher with music by Michael Giacchino.