Lindsay Lohan To Play Linda Lovelace In 'Inferno'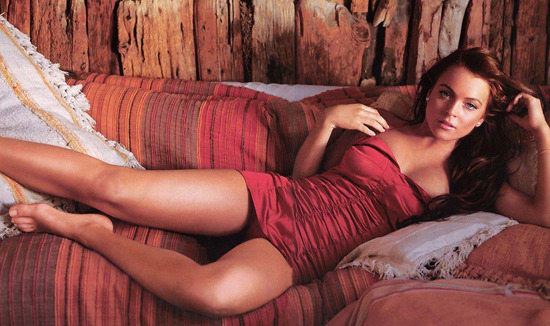 Last night there were rumors that Lindsay Lohan might be playing '70s porn star icon Linda Lovelace in a biopic called Inferno. She'd be taking the role that was planned for Anna Faris a couple years ago. But the film had financing problems and Faris decided (probably correctly) that starring as a porn star in a dark, financially struggling film might not be for her. Now the film's producer has confirmed that Lohan is on board and the film will be looking for financing at Cannes.
The LA Times reports that producer Wali Razaqi confirmed that Lohan is cast as Lovelace, and that the film and her casting will be formally announced at the Cannes Film Festival. "For at least a year, the director [Matthew Wilder] and I have gone back and forth imagining how awesome of a performance she could give if she was in the movie," the producer told the LAT.Bill Pullman is cast as Hugh Hefner. (Kind of a gimme, given that he was in Matthew Wilder's Philip K Dick movie, but still good casting.) We don't have a name for Chuck Traynor, the man who was husband and alleged pimp to Lovelace. Sam Rockwell was once on board for that role, but that was a long time ago.
This is such on the nose casting — Lohan's seemingly nosediving career isn't anything compared to the insanity that Lovelace went through, but there's something about casting one troubled actress as another that seems....tawdry. But maybe Lohan can make it work.
Meanwhile, what does this mean for Rob Epstein and Jeffrey Friedman, the directors of Howl, who have been said to be setting up their own biopic of the star? Their film would be called Lovelace, written by W. Merritt Johnson based on Eric Danville's book The Complete Linda Lovelace.
Do we really need competing Lovelace biopics, especially with Inside Deep Throat around to provide so many details? Despite hearing not great things about Howl, I rather hope that Epstein and Friedman get their picture together first, but that's sounding just a bit less likely now. And Inferno was there first, not that such a thing ever really matters in filmmaking.