Alex Holdridge To Direct The F-Word - Fox Searchlight's Next 500 Days Of Summer?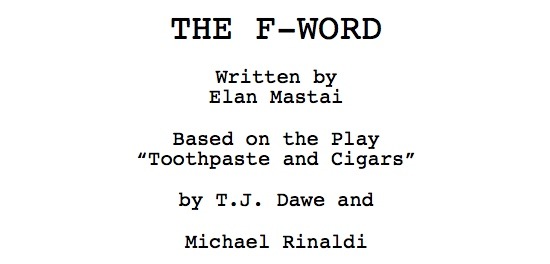 Fox Searchlight has signed In Search of a Midnight Kiss helmer Alex Holdridge to direct The F-Word, a screenplay which was listed on the 2008 Black List (an insider Hollywood listing of the best unproduced screenplays of the year). The biggest surprise about the F-Word is that it isn't the four letter word F***. It's "Friend".
Based on the play "Thoothpaste and Cigars" by T.J. Dawe and Michael Rinaldi, and written by Elan Mastai, whose previous credits include Alone in the Dark, MVP: Most Vertical Primate and Sk8 Life. But don't let those credits scare you off, this screenplay has been making a lot of buzz around town.The impression that I get is that it's a romantic dramedy for people who don't usually like those type of movies.
The story is described as a story about "Two best friends struggle with falling in love without ruining the bond between them." Here is a longer plot description thanks to 12pt Courier:
"This movie is basically an R-rated semi-romantic comedy. Wallace and Chantry meet and fall in love. Chantry has a boyfriend, so Wallace is stuck in shitty friend-zone. Chantry has to figure out if she wants to stay with her boyfriend or go with Wallace. Wallace has to figure out a way to show Chantry how he feels about her, without possibly ruining their friendship forever."
The script also currently #12 on ScriptShadow's reader top 25 unproduced screenplays list. They write:
"There's no denying The F Word has a thin premise, but it's the execution that sets this apart from all the other clones."
The script is also said to contain weird animated dream sequences which, who knows, may not make the big screen. Considering Juno producer Russell Smith and Fox Searchlight are both behind the project, it might feature these animated breaks.
Holdridge's In Search of a Midnight Kiss got good reviews at film festivals but went under the radar of most. Check out the trailer below:
source: LA Times