Fox Back In Talks With Kick-Ass Director Matthew Vaughn For X-Men: First Class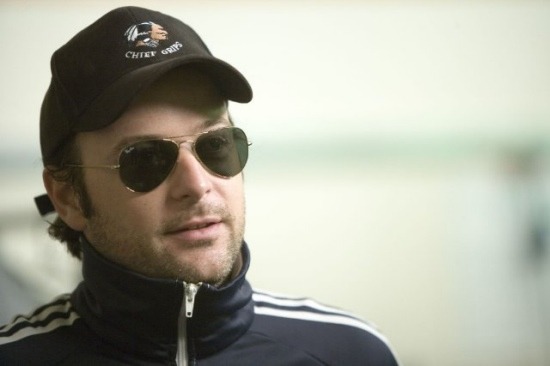 Last week it was reported that 20th Century Fox was in talks with Kick-Ass director Matthew Vaughn to direct the X-Men series prequel/reboot X-Men: First Class. Deadlinequickly responded claiming that "Vaughn's negotiations have been touch and go, and sources close to the director said he's passing. " Cinematical posted a list of eight directors Fox was in talks to take the helm: Louis Leterrier, Jonathan Mostow, Daniel Espinosa, Rupert Sanders, Timur Bekmambetov, David Slade, and Carl Erick Rinsch.
Well it appears Vaughn has returned to the table, and according to Flemming, the "studio is working with his WME reps to close the deal."
I love Vaughn, and was a big fan of Kick-Ass, but I really would have loved to see what commercial directors turned first time feature directors Carl Erick Rinsch or Rupert Sanders could have done with the comic book property.
Previously:
This is a weird turn of events, as you might recall that Vaughn was originally set to direct X-Men 3: The Last Stand after series director Bryan Singer left the franchise for Superman Returns. Vaughn ended up quitting the production due to "a huge amount of studio pressure to finish the film in a very short amount of time, with a script he felt was flawed and a large amount of studio interference." Vaughn dropped out only a few weeks before filming was set to begin. And as you know, Fox was able to sign Brett Ratner to direct that sequel.
EW notes that Vaughn "could very well turn down the First Class offer" especially considering the filmmaker's history with the X-Men franchise. The studio is also said to be speaking with other possible directors.
The box office for Vaughn's Kick-Ass has been below expectations despite overwhelmingly great buzz. Vaughn has originally hoped to film a sequel, but it doesn't seem likely at this time. Vaughn has also been considering an adaptation of Jonathan Ross' Turf and was in talks for a big screen adaptation of Bloodshot.
Bryan Singer was originally attached to return to the X-Men franchise to helm this new film, but his commitment to Jack The Giant Killer at Warner Bros will prevent him from directing. In fact, it was Singer's take on the story that got Fox so excited about the project in the first place. Originally the film was going to be about a new class of mutants that would consist of some of the characters not featured in the original trilogy.
But Singer's treatment was a Str Trek-style reboot/prequel, which will focus on "the formative years of Xavier and Magneto, and the formation of the school and where there [sic] relationship took a wrong turn." Singer has previously admitted that First Class would "probably utilize some of the [planned/announced X-Men Origins:] Magneto story because it deals with a young Magneto," and that "it might supersede" that plan because this new movie would explore "that relationship between a young energetic professor and a disenfranchised victim of the Holocaust."
"It's basically about the formation of the X-Men. How they began and the relationship between a young Xavier and a young Magneto."
The day after Jamie Moss handed in his first draft, Fox head Tom Rothman fast-tracked the project.  It was at this moment that Warner Bros informed Singer that they would not delay the production of Jack and the Giant Killer. Singer will still produce the project.
I've heard the script is solid, and everyone who has read it is excited to get it into production asap. I'd personally love to see Fox sign someone with a compeltely new vision to the project, like commercial director Carl Erik Rinsch or Fredrik Bond.